Ongoing to November 7 – Ryan Wallace: Do Make Say Think at Romer Young Gallery:  New York artist Ryan Wallace creates process-based paintings where he paints, cuts, collages, and re-applies various materials to create gestural compositions. This exhibitions consists of five paintings and continues the artist's exploration into the perception of space, the combining of authored and accidental gestures, the marking of time and how information is created, copied and presented.
Romer Young Gallery is open by appointment. To schedule a visit use this link.
Museums Reopening – SFMOMA, Asian Art Museum, de Young Art Museum, and The Contemporary Jewish Museum: At long last museums in San Francisco are beginning to reopen! Check below with each institution for dates, information and enhanced safety measures to schedule a visit.
SFMOMA:  On view of note – Future Histories: Theaster Gates and Cauleen Smith: Opening on October 17th. Taking archival photography from lifestyle magazines as a point of departure, the central video projections in this exhibition offer new perspectives on the past.
Asian Art Museum:  On view of note – Jean Shin | Pause: New York–based artist Jean Shin created a site-specific installation of and about technology, but without electricity, WiFi, flashing lights, moving images or sound.
de Young Museum:  On view of note – Uncanny Valley: Being Human in the Age of AI:  Is an exhibition that examines our AI driven world through a lens of contemporary art and proposes new ways of thinking about intelligence, nature, and artifice.

The Contemporary Jewish Museum: On view of note – Predicting the Past: Zohar Studios, the Lost Years: Los Angeles-based artist Stephen Berkman's immersive photography installation is a tribute to Shimmel Zohar, a mythical nineteenth-century Jewish immigrant photographer, founder of Zohar Studios.
Ongoing to October 23 – Christy Matson: Never Done at Rebecca Camacho Presents:  Los Angeles based textile artist Christy Matson employs a hand-operated, computer-programmable Jacquard loom to create intricate weavings to which she applies unconventional fiber techniques such as paint and layered composition. Through the duality of the machine and the hand, Matson reflects on the history of weaving in conjunction with art historical approaches such as geometric abstraction and collage. Watch this short video of Matson discussing her painterly approach to weaving on this link.
Rebecca Camacho Presents is open daily by appointment, schedule by phone: 415-800-7228 or email: info@rebeccacamacho.com.
October 14 to Mar 13, 2021 – Isaac Julien: Lessons of the Hour  at McEvoy Foundation for the Arts:  Lessons of the Hour is an immersive ten-screen film installation and photography exhibition by British filmmaker and installation artist Isaac Julien, that explores the life of the visionary African American writer, abolitionist, statesman, and freed slave Frederick Douglass. Incorporating excerpts from Douglass' speeches and dramatizations of his private and public milieus, the centerpiece of the exhibition, Lessons of the Hour — Frederick Douglass (2019) offers a contemplative, poetic journey into Douglass' zeitgeist and a forceful suggestion that the lessons of the abolitionist's hour have yet to be learned.
McEvoy Foundation for the Arts is open Tuesday – Saturday. To visit schedule an online reservation here.
October 10 to December 19 – We Have Teeth Too, curated by Natani Notah at Berkeley Art Center:  This group exhibition features an interdisciplinary selection of current works that touch on human rights violations across North America. New sculpture calls attention to the ongoing fight for educational institutions to repatriate Native remains to the communities they were wrongfully taken from, while delicate works on paper bring more awareness to the detrimental effects of radon poisoning happening in the Southwest today. Works in this exhibition span a wide range of mixed media including sculpture, painting, and photography with ties to the complex histories of portraiture, quiltmaking, Indigenous quillwork, and regalia.
Monday, October 12 at noon –  join the Instagram Live curator walkthrough with Natani Notah as she offers a live talk from the BAC gallery to discuss works in the exhibition.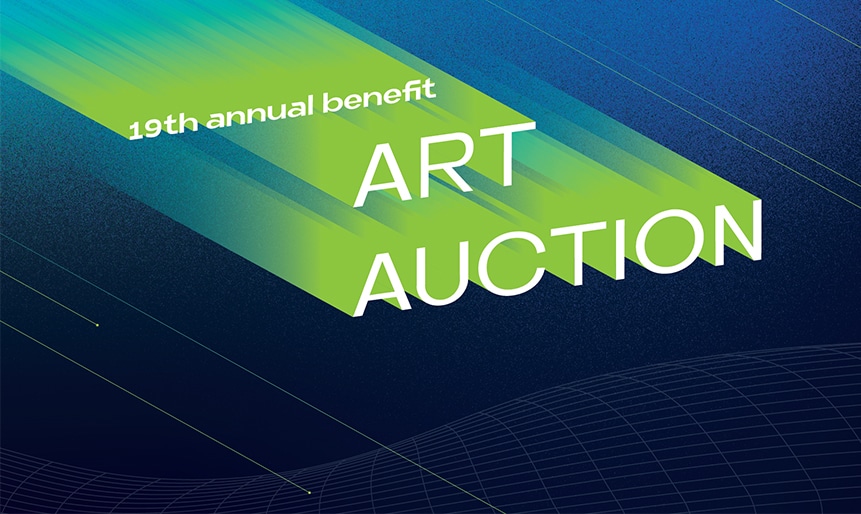 Thursday, October 22, 7-9 PM – Root Division Annual Benefit Art Auction:  This year Root Division invites supporters to join them virtually for their largest annual fundraising event featuring over 100 established and emerging Bay Area artists. Proceeds benefit local artists, free art classes for Bay Area youth, and the continued success of Root Division's unique model for keeping artists working in the heart of San Francisco. Auction artwork will still be installed in the gallery for appointment viewings, but the bidding will be online and the "live" event will be virtual. For general admission, all are welcome to join for no cost.  Check this link to see VIP packages with additional benefits.
Online until October 31 – Shinpei Kusanagi: Something is happening which is not happenings at all, Altman Siegel viewing room online:  This is a solo presentation of works by Tokyo-based artist Shinpei Kusanagi online, and features new paintings that embrace possibilities for energy and movement within a world standing still. Kusanagi's process includes staining untreated canvases with layers of translucent color. He then incorporates improvisational brushstrokes in vivid hues and markings that materialize from rapid motions as well as pooling stillness. The compositions hover on the surface and then move into deep space. Visit altmansiegel.viewingrooms.com to view the exhibition.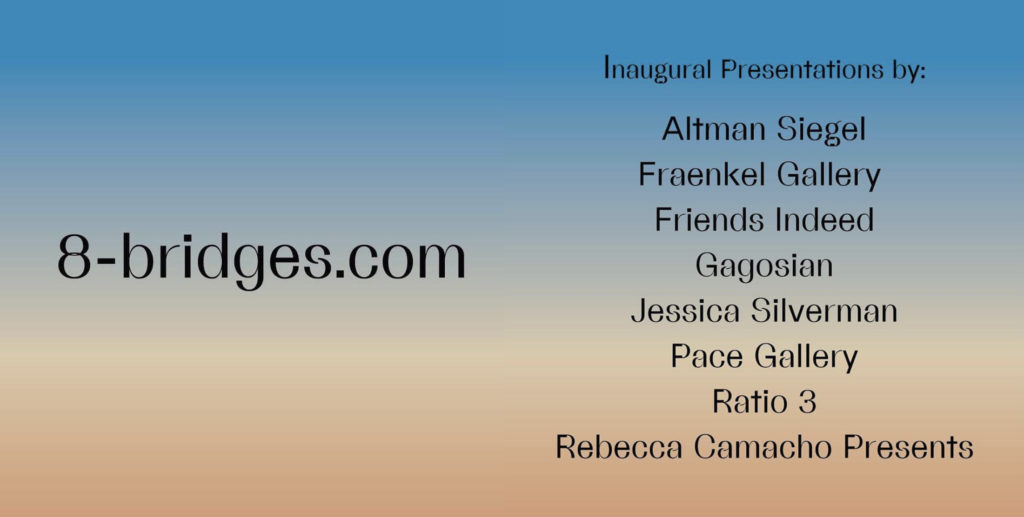 Opening October 1 – 8-bridges:  A group of Bay Area galleries have joined forces to launch 8-bridges, a virtual platform named for the eight bridges that connect the San Francisco Bay. The platform will offer monthly rotating exhibitions by Bay Area galleries. For the month of October, founding committee members and guest gallery Rebecca Camacho Presents will have presentations on the platform. 8-bridges will also spotlight San Francisco's Museum of the African Diaspora as its first institutional beneficiary, directing visitors to learn about and donate to the institution throughout October.