Galleries
Tucked away in a side gallery was a small group of work by Sanlé Sory, who is from Burkina Faso, West Africa. Originally a commercial photographer, these spectacular portraits document his clients and friends from the 1960's to 1980's. These portraits were sought to be captured in ways that reflect their dreams and desires.
Braman's sculptures serve as monuments to everyday life. She is interested in the interplay between sensory experience and emotional resonance.  In creating her precariously balanced sculptures, Braman combines found everyday objects with translucent volumes of color and light.  The artist's distinctive color palette of rich pinks, blues, and purples permeates the space.
The installation of this large-scale drawing prompts the viewer to confront the physical nature of a work on paper outside the familiar two-dimensional frame.
Fried's color pencil drawings consider how individual gestures can be deconstructed and rearranged, emphasizing the beauty of mark-making within each stroke of color. The visual frame is constructed via a rhythmic weaving of color and line, drawing attention to subtle variations in light, tone, and shadow.
Moyer is known for using discarded stone and marble within her carefully crafted paintings. This new work takes the same approach but with new material. These new glass works are an investigation into the nature of materiality of fused glass. Drawn to glass for its simultaneously fluid and solid states, Moyer exerts a high degree of control in making her compositions but embraces the uncertainty that occurs once they are fired in the kiln.
Vance's masterful paintings evolve with optical depth. She lets the underpainting serve as an element in the work. The paintings are shaped by a slow, improvisational process in which colors and marks are transformed into the fully formed visual motifs. As paintings progress within their own subconscious evolution, there is distance between the artist and the work, allowing each composition to develop in its own way.
This excellent group show featured abstract, process-driven photographs as varied in appearance, process and meaning as photography's more traditional forms of production. Being freed from its role of "record-keeper", the medium of photography is reduced to its most essential and variable element: light. The standouts include New Zealand photographer, Ben Cauchi and Albanian- American photographer, Gjon Mili.
Gjon Mili collaborated with Picasso to make "light drawings" using strobe lights in 1949. Mili used long exposure shots to enact Picasso's dramatic movements in space and time. Through photography, Mili captured these instantaneous drawings, which would have otherwise dissipated into the darkness within seconds, without any residual mark.
Forrer's tapestries are fantastical, brutally honest and cartoonish. Her work is a searing exploration of conflict, which she perceives as being the very core of all relationships.
Pioneering land art artist, Michelle Stuart's show at Galerie Lelong was spectacular. The work combines found objects and artifacts with found photos that Stuart took from a boat at sea during the Solar Eclipse. The work comments on the passage of time, life and death.
This group show at Sundaram Tagore, curated by Betty Seid, consisted of 11 abstract artists all with deep ties to the Indian subcontinent. The standout works were by Manesha Parekh's, who's works are composed of materials including jute rope, silk, handmade paper and tea, her fluid abstractions often draw upon the craft and textile traditions of India.
This was Brazilian artist, Laura Lima's first show in New York. In the gallery, there was a fully functional tailoring workshop. A team of local tailors worked to produce a collection of garments to "dress" Lima's minimal drawings. Lima invited tailors to interpret her drawings and ultimately to complete them, creating a dialogue between artisanal labor and the art-making process. Limas rope works are composed of natural cotton with pieces of charcoal attached to them. Over time, the charcoal begins to dye the works. In a continual state of fluidity the works are dated far into the future, suggesting an eventual time when they may reach completion.
The unique methods and materials de la Mora uses, feathers, egg shells, and human hair, are a result of his exploration of alternative modes of art-making. The title of the work offers the first indication of a meticulousness as it reveals the works constituent parts. 1,660 I, 2018 enumerates the 1,660 colored feathers that comprise the image. de la Mora is interested in creating work that is made up of much more than meets the eye and is a complex assemblage of elements.
Otero has developed physically rigorous and experimental techniques to push the boundaries of painting. Through a methodically innovative process, the artist paints onto large sheets of glass, scrapes the partially dried oil paint from the surface, and then reassembles and collages the "skins" into multi-layered compositions.
Yanko searches salvage yards for materials that she then combines with paint "skins". These "skins" allow her to use paint not only for its color, but as a structural material that stands in contrast to the industrial, manufactured components of the copper.
James dedicates his paintings to the people in his life. The act of dedication highlights questions of audience and reception by specifying one privileged addressee. In a sense the work is even gifted to the dedicatee, without becoming his or her physical possession, and a question is raised as to what constitutes the true ownership of a work of art.
Art Dealers Association of America (ADAA)
The highlight of the ADAA fair was Fraenkel Gallery and David Zwirner's collaborative booth with painter, Alice Neel and photographer, Diane Arbus. The collaboration explored the unmistakable affinities between the two artists who were both working in New York City in the mid to late 19th Century. Although there is no evidence that they ever met, Neel and Arbus's works share a visible intensity and complexity through the gaze and gravity that both artists conjured in their portraits.
Rothenberg challenges and extends painterly conventions in her spatial and distorted compositions as well as in her exploration of light, color, form and movement. Juxtaposed against minimal yet heavily worked backgrounds, body parts become shapes, and the tension between figuration and abstraction is heightened.
Wessel has photographed scenes of the American West, in particular, California since the 1960's. Wessel's quiet, poetic and beautifully lit photographs capture the idiosyncrasies and irony of American life.
Dutch painter, Robert Zandvliet uses landscape as a conceptual frame of reference. In these works, recognizable representations of a landscape have been replaced by a gestural play of lines, colors, and surfaces– the horizon has completely disappeared.
Semo's abstractions are deeply rooted in the physical. While these objects appear blank and impersonal—they could be confused for found objects from a construction site—Semo gives them grandiose all-caps titles that uneasily bridge the gap between humor and hysteria, therefore leaving their meaning unclear.
Independent Art Fair
Bay Area artist and Abstract Expressionist, Fred Reichman focuses on intimate spaces and addresses the subtleties of domestic scenery in delicate, washed tones. Reichman's work is just as timeless and singular as when he painted it in the mid to late 19th century.
Purtill works primarily as a bookmaker and his artwork is often hidden in books. For these works, the artist used pages from a book, dyed them and took them apart to use as a surface to draw on. The mark making on the pages specifically relate to the landscape. In a collaboration, Purtill gave some of these blank pages to fellow artists to use as they wish and these were also on display.
Indian artist, Goutam Ghosh navigates the various influences of traditional Indian philosophies and rational sciences that he translates into an autonomous and poetic imagery that combines abstraction and figuration. His gestural, detailed and sign-like paintings are informed by a variety of disciplines including religion, magic, geology, music, and mathematics.
The Armory Show
British-Trinidadian artist Zak Ové, seeks to reignite and reinterpret lost culture and mythology using new-world materials. Ove's doily paintings are made from vintage European lace doilies as well as custom ones that have been made by Syrian refugees.  The paintings, with their vibrant circular layers and patterns evoke the spirit and energy of the Trinidadian carnival.
Living between Paris and Mexico, Théo Mercier's work is created through his relationship to the environment around him. He mixes his own sculptures with objects he has collected over time. These arrangements evoke a kind of archeology of the future.
Italian artist, Riccardo Baruzzi's work is structured around the physical and poetic principles of drawing and sound, specifically the rhythm and the movement of painting.
Bittman creates meticulous work that aims to stimulate the viewers' visual perception and pattern recognition. She asks us the question of how much we really assimilate everyday. Bittman's work is intended to slow the mind down and reveal visual phenomena without trickery, using basic shapes, symmetrical layouts, and pared-down color palettes.
Using staining and layering techniques, Hood creates surfaces of color and swirls of over-processed images of inconography. Botanical and floral motifs suggest a realm where one can loose oneself while also being rooted in the digital and screen-mediated world.
Mariko Mori Studio Visit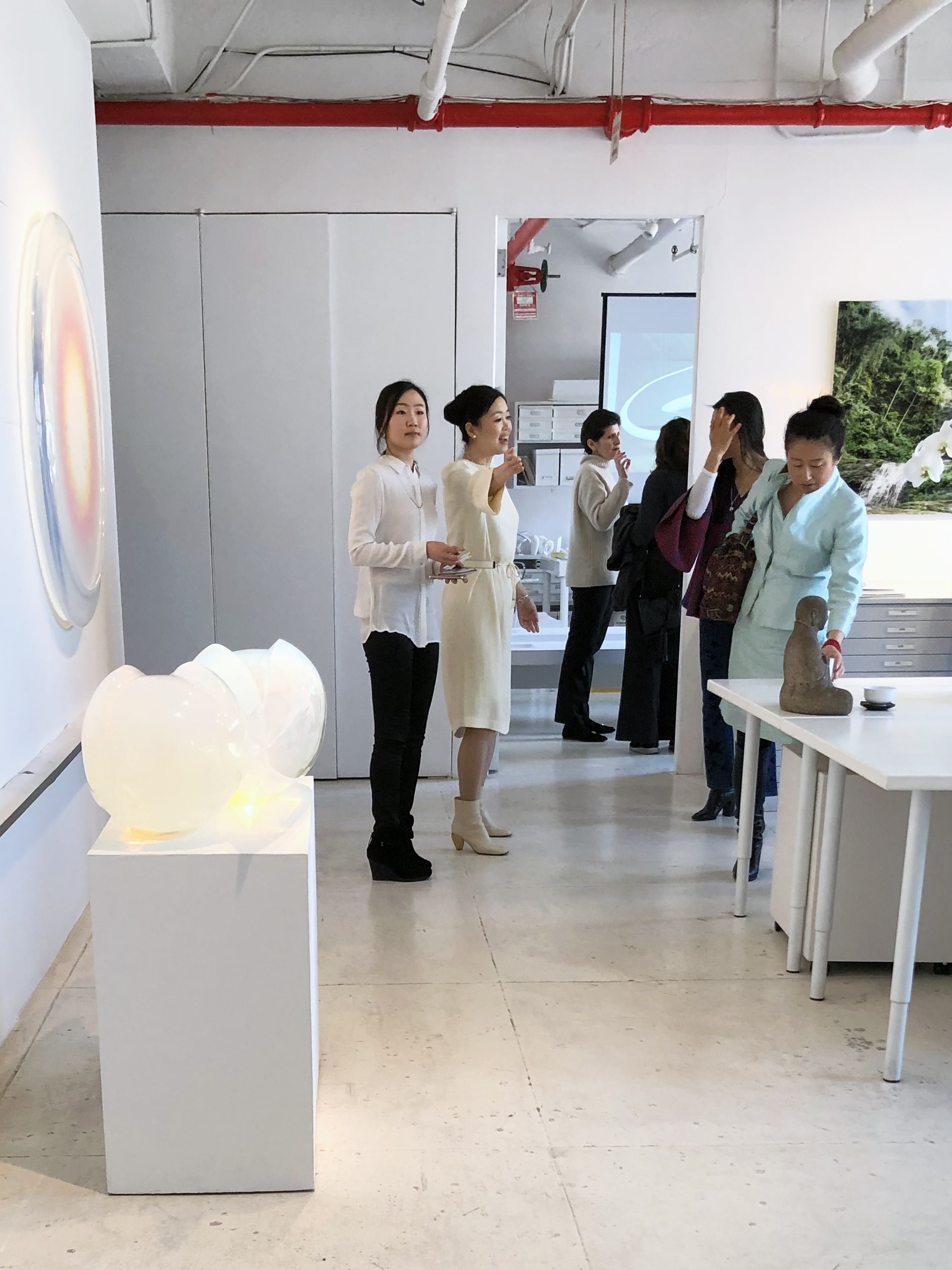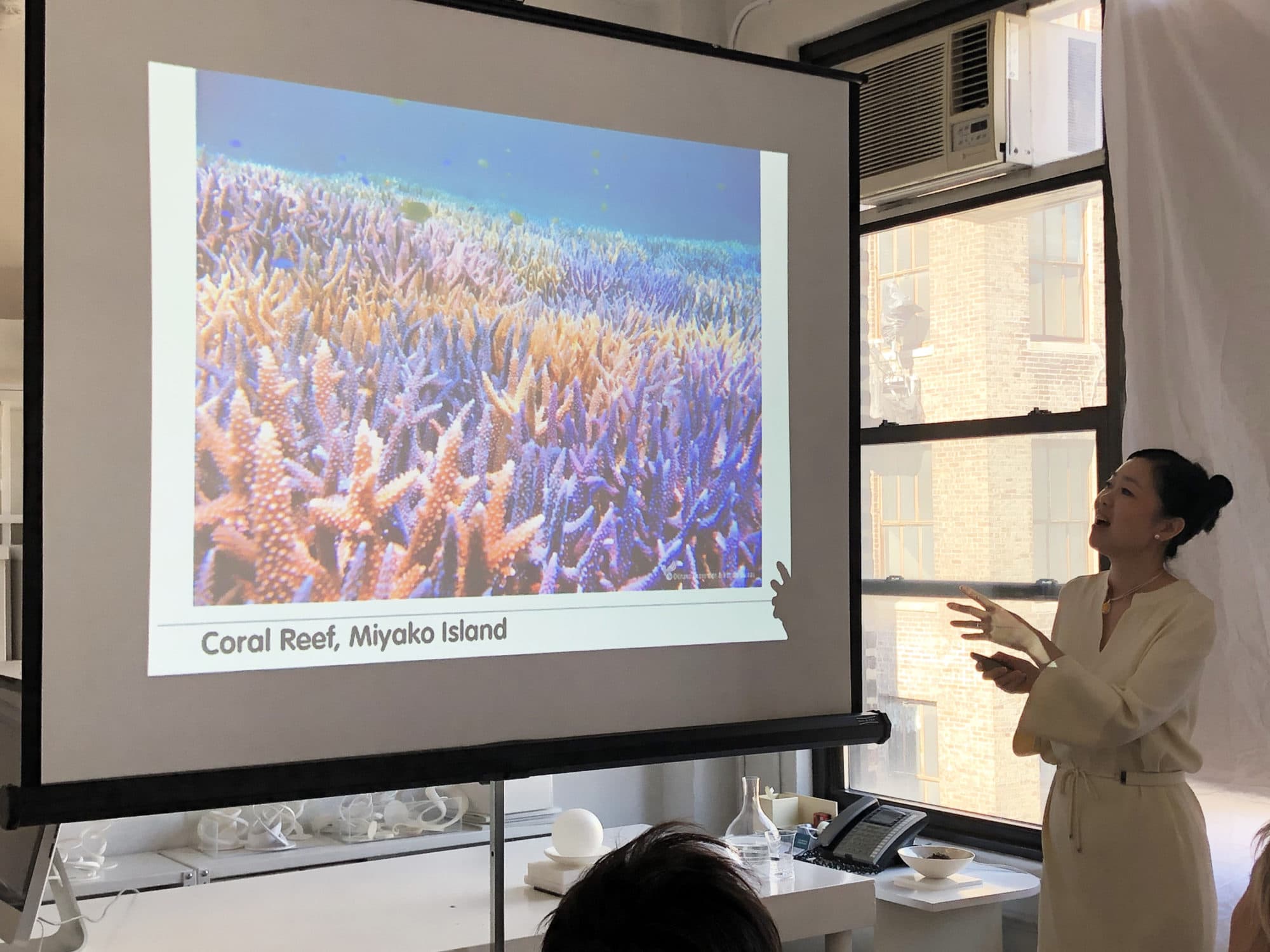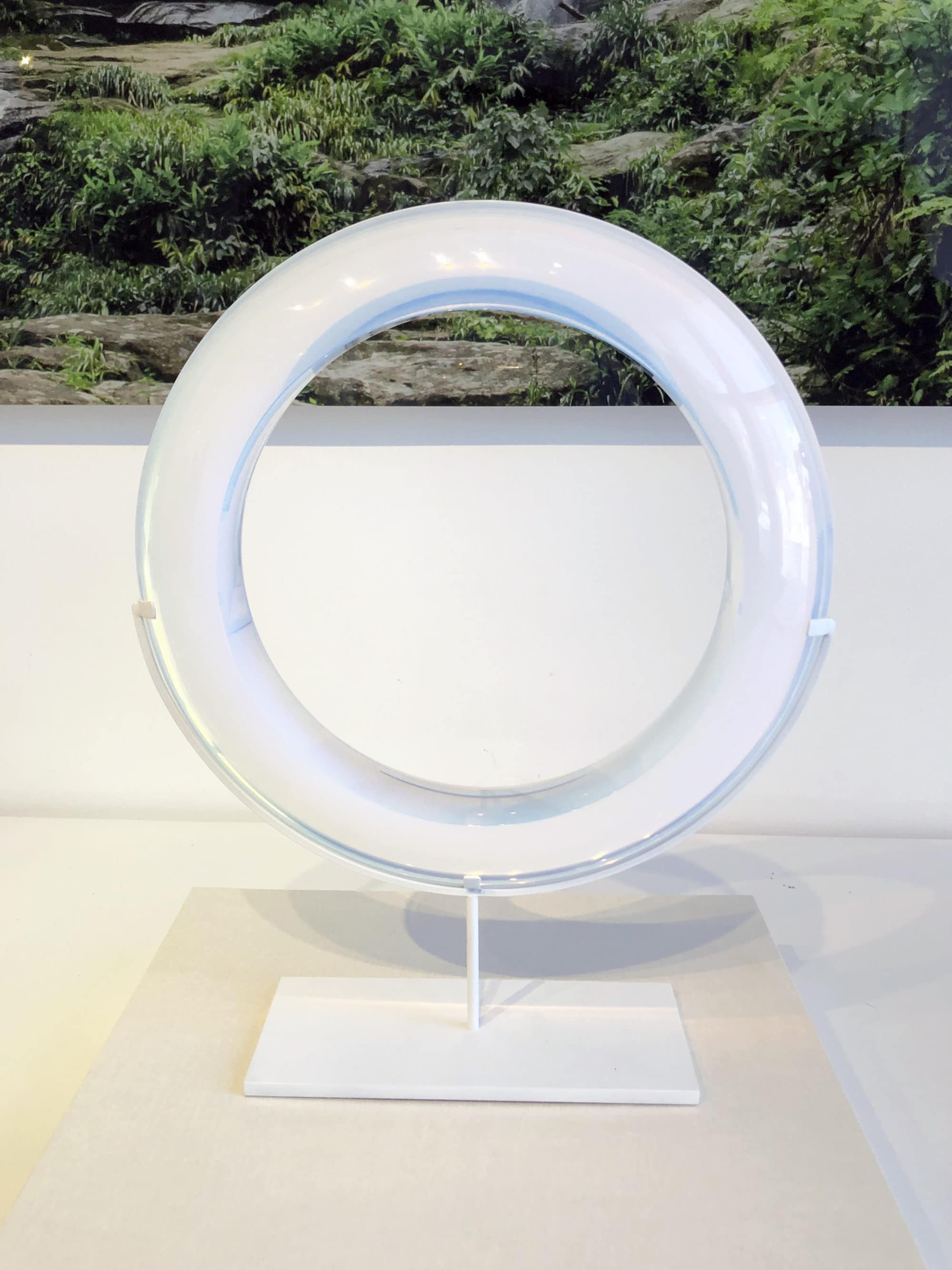 In conjunction with The Armory Show and in collaboration with Sean Kelly Gallery, we had an inspirational studio visit with contemporary Japanese artist, Mariko Mori. It was very interesting to learn more about her ambitious and spiritual practice as well as her FAOU Foundation. The foundation was created in 2010 as a monumental public project to create six site-specific artworks on each of the earth's habitable continents to promote environmental awareness of the balance between humanity and nature. Mori's practice explores universal questions at the intersection of life, death, reality, and technology.