Desert X – Following are our favorite pieces from this site- specific outdoor art exhibition in Coachella Valley. Meant to bring attention to the valley's environment through the display of works by established and emerging artists, themes in the exhibition include climate change, immigration, tourism, gambling, and Native American culture. We felt the most successful pieces were the ones that were about the place they were located in.
Sterling Ruby's fluorescent orange monolith, appears as a shadow in the desert. The bright, geometric sculpture creates a jarring optical illusion as if something has been removed or erased from the landscape. The block acts as a stand-in, mimicking the form it could embody — a shipping container, a military bunker, an unidentified object, an abandoned home-stead. Fluorescent orange is traditionally used for safety, as a warning. Here that logic is reversed: a ghostly object, set apart from the natural environment, hiding in plain sight.
This interactive sculpture created by Bogotá-born/Paris-based artist Iván Argote is installed at an elevation above the Salton Sea, the manmade body of water which has been California's largest lake for the past century. There are 5 concrete staircases that project the viewer into the landscape, some facing each other, some facing out. Poetry raising questions about ownership and territory are set in concrete appear in Spanish and English upon each step. This was our favorite piece as it highlighted the beauty of the surrounding location, and provided a place for contemplation.
The installation is a Möbius strip made from concrete breeze blocks in a variety of fleshy pinks and browns. Technically, the Möbius strip is a surface with one continuous side formed by joining the ends of a rectangular strip, but it has a direct relationship to methods of psychology. Famed psychoanalyst Jacques Lacan's own attempts to use topology – the study of geometric properties – as a vehicle to describe the human mind is a subject artist Julian Hoeber has explored for years. As with the Möbius strip form, what is inside and outside the self can quickly become indiscernible
In correspondence with Hoeber's other installation, "Going Nowhere Pavilion #01", The painting in the pool and is connected to the property surrounding it. The painting, like the pavilion, is an image of the mind in its own way: the painting is a study of phenomenological consciousness. Both the pavilion and the painting attempt to parse out how forms can represent the logical, irrational, historical and corporeal experiences of human consciousness.
Driving down Gene Autry way you pass a series of photographs on billboards by artist Cara Romero. The photographs on the billboard respond to the ancestral lands of the Cahuilla, Chemehuevi, Serrano, and Mojave people. This image features four special time-traveling visitors from Chemehuevi who have come to the ancestral lands of their sister tribes in the Coachella Valley. In Romero's vision, these small but mighty figures have returned to remind us of our deep connections to the land, the stories contained within it, and how we can live in relation to it. The photograph is a manifestation of an oral tradition, bringing visibility to the individuals, cultures, and history that continue to inform the landscape.
Palm Springs Art Museum – The powerful exhibition, "Unsettled" looks to the future while also honoring the past and those who created cultures and places millennia before it was declared 'unsettled.' The work created in the exhibition explores the geography of vast frontiers, rich natural resources, diverse indigenous peoples, and the inevitable conflicts that arise when these factors coexist.
These terra cotta plates filled with dry pigments, spices and salts offer a variety of colors, scents and patterns to create an immersive sensory experience. The installation speaks to the ways in which regions are interconnected through foods and spices rather than arbitrary geopolitical borders.
Ruscha uses chocolate as a material for art- making. By painting tiles of paper with chocolate and installing them across the gallery walls, he creates a sensory experience that responds to the origins of cacao beans. The Olmecs (before the Spanish colonization of the Americas) and the Mayans used it as a ceremonial drink and aphrodisiac for hundreds of years before the Europeans discovered it in the seventeenth century and transformed it into what we know it as today.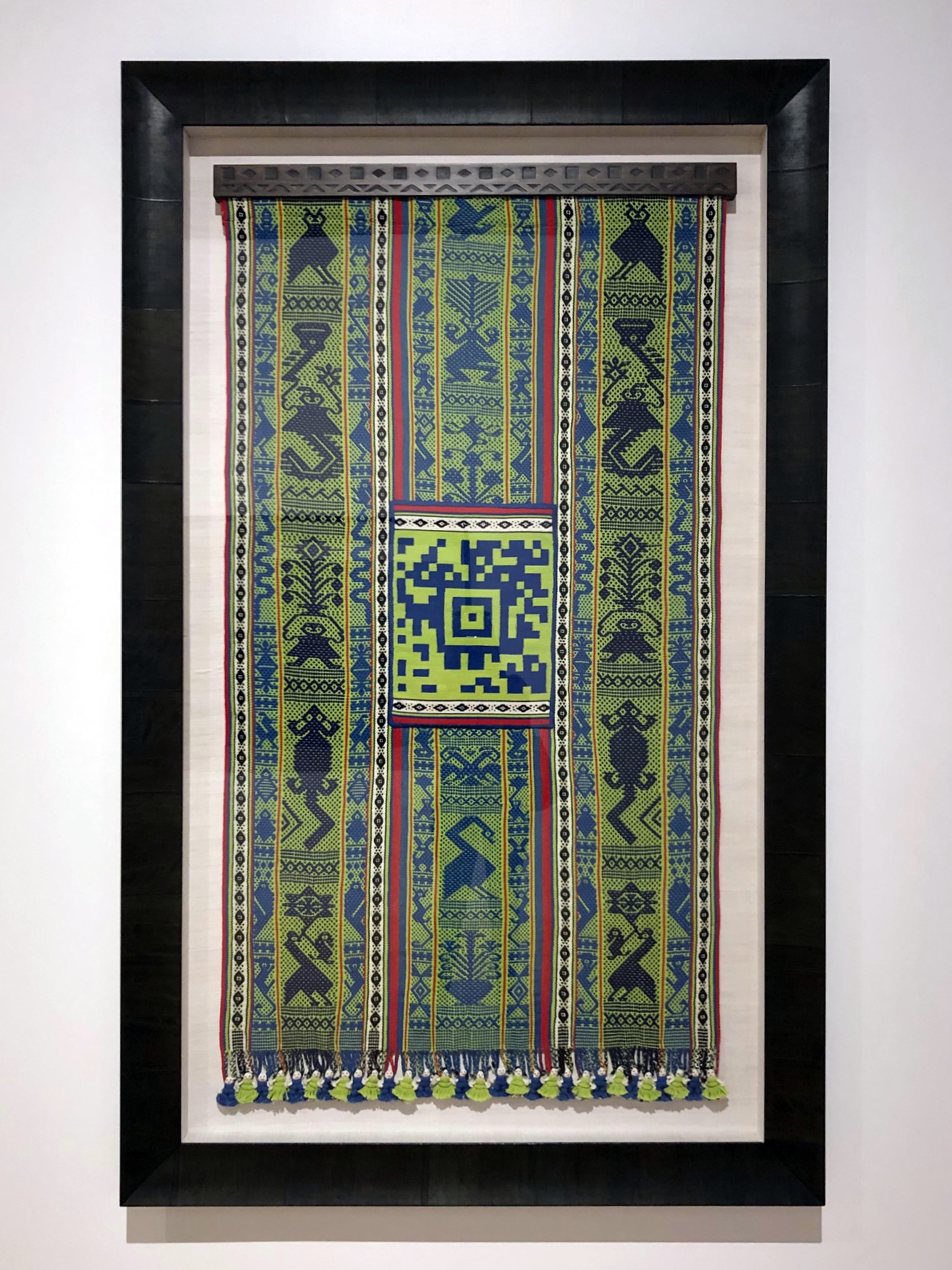 Guillermo Bert, "Zapotec Poet", 2015.
This tapestry is made with wool and natural dyes and is encoded with Aztec bar codes. Bert collaborates with traditional Mapuche, Navajo, Maya, Mixtec and Zapotec weavers in Chile to weave bar codes that, when scanned with a smartphone,"de-code" cultural messaging and create a bond between the distant viewer and the intimacy of the community of indigenous artists and storytellers.
Jungen's work is inspired by his repulse of the professional sports industry. This work is a response to the cult-like embrace of sports paraphernalia by fans and the industry's adoptions of names such as the Redskins or the Braves to denote fierceness and bravery. Jungen's sculptures are made from golf bags that were re-purposed into forms that resemble Northwest Coast totem poles.
Jungen is of mixed Dunne-za (Beaver) and Swiss background. The sculpture is made from Nike Air Jordans that were refashioned to resemble an Indigenous Northwest Coast mask.
This culturally appropriated black and white image, split down the center, features Princess Leia from the 1977 Star Wars on the right and photographer Edward Curtis's A Tewa Girl (1906) from the well- known photographic series The North American Indian (1907-30). The Tewa girl, a Pueblo Indian native of the Rio Grande region of the southwest, wears her hair in a large bun that bears an uncanny resemblance to Leia's futuristic bun, indicating the adoption and absorption of selected elements of Indigenous culture by the dominant group, in this case the American film industry.
This gown made in collaboration is dedicated to missing and/or murdered First Nations women. The textile and hand-engraved metal adornments are met with a contemporary elements of the quilted puffer jackets– a reference to missing persons reports, which often state that the missing woman was last seen wearing a winter jacket. This gown is meant as a symbolic garment for modern ritual and protection.
Art Los Angeles Contemporary (ALAC) – ALAC held its 10th annual fair, exhibiting galleries from around the world.
These metallic thread on paper works are based on the wages equivalent to one day's work. Exploring the intersection of contemporary craft and social practice, Aminlari employs geometry and abstraction with a rhythmic intensity matched by ideas surrounding the transnational dissemination and intercultural reception of embroidery, the color blue, and labor.
By creating work using the color grey, Hao's work attempts to locate a purified spiritual world in the current state of life. He uses the Eastern trait of "inner beauty" through the minimalist color of grey and the rich material texture of his work. Gray represents everything as it is the sum of all colors.
June Edmonds' vibrant, confidently impasto paintings of radiant color are like controlled bursts of psychic energy. Edmonds describes her work as "a doorway to memory". The work  has visual similarity to the dot-paintings of the indigenous Australians – the longest continuous visual art tradition operating in the world today.
Henna Vainio uses sculptural casting as a method to reproduce everyday objects often resulting in the creation of seemingly natural looking, human-like forms. Her methods invoke the sense of casting in the theatrical sense of the word, as through the act of reproduction, the objects are assigned new roles or cast into performative functions.
Frieze Los Angeles – A branch from Frieze London and New York, this newly announced contemporary art fair offered insight to 70 galleries from around the world inside a custom made structure designed by architect Kulapat Yantrasast for the fair.
Falls boundary-defying work applies artistic processes to natural phenomena. He often inserts organic structures into art and man-made objects into nature.
These multi-colored are paintings in photographic development plastic trays. Bearing a resemblance to landscapes, they are rendered in a multitude of hyper hues. These sceneries are built with Tompkins manipulation and layering of paint, a practice that democratically employs and values both the premediated and the unpredictable.
Anderson is a British painter who explores his Jamaican heritage through depictions of verdant Caribbean landscapes, tangled into abstractions rich with cultural references. His work sheds light on the complexity of growing up in England while desiring to reconnect with familial roots.
Freeman's intimate paintings, small, abstract and gem-like, are an accumulation of layers with varying degrees of opacity and luster. The colors, hand-mixed acrylics or oil paint and slapped onto the canvas at a rapid clip, are anomalous and unexpected, contemporary and vintage in feel.
Pjota is interested in the processes and mechanisms that produce, edit and disseminate human expressions during a time that is dominated by the internet and ultra-communication. Through rhythm, rhyme and repetition, images arise, which index the common perceptions of a globalized planet and, consequently, expose deep inequalities.
Kahn investigates the visual and spatial relationship between painting and sculpture. Using unprimed canvases stretched over wooden frames, he assembles complex wall-mounted works in which the gaps between the individual canvases give rise to abstract or pictorial compositions. Rather than tracing the lines and shapes directly onto the canvas itself, he turns them into physical components of the artwork. Referencing the tradition of minimalist abstraction, Kahn's work is informed by a desire to explore non-illusory forms of representation.
These are site-specific projects that were in the back lot at Paramount Pictures. These were our two favorite:
Inspired by the efficiency of a doodle or sketch, Hannah Greely makes three-dimensional works enlivened with the idiosyncrasies of drawing.  Suspended from clotheslines spanning the fire escapes and windows of two apartment buildings, Greely's hand-made, cartoon-like paintings of clothing items, as well as objects seen in the sky such as clouds and helicopters, enhance the simulated environment adding an extra layer of make-believe and wonder.
Sarah Cain constantly seeks out alternate modes and surfaces for painting. Cain continues her anarchic approach by transforming the set of a classic New York City brownstone apartment, into an immersive installation featuring her signature style of abstraction, as well as a new work in stained glass.
Various Exhibitions 
This exhibition, "Six Significant Landscapes" at Moskowitz Bayse is an exhibition of new works by Kylie White. White's works are sculptures, scale models, geologic diagrams, and proposals; each depicting an active fault line, a place of displaced terrain due to tectonic movement.  The sculptures rely on modern science to determine their forms and modern tools to generate them, yet allude to something ancient and sublime: humans amidst the immensity of the landscape.
This work was part of Susanne Vielmetter Los Angeles Projects inaugural exhibition for their new space in Downtown LA. Working in a variety of mediums including drawing, installation, and video, LA based artist, Andrea Bowers centers her work on the convergence of art and activism.  These marker on found cardboard drawings represent images of powerful women and are, what Bowers calls, DIY political posters.
This exhibition, titled "White Noise" at Wilding Cran Gallery, consists of Christian Eckart's photographs of climate change. Eckart has digitally voided, with semi-transparent white, much of the beauty found in these type of found on the internet. Eckart is re-presenting romantic sublime imagery for the purpose of reconsidering its primal power specifically in the context of the potential extinction of the human species as a result of climate change.
Night Gallery's exhibition of Derek Fordjour's painting and sculptures, titled "JRRNNYS", speaks to various crowds and athletic competitions to illustrate the entrenchment of power relations, capital flows, and racial inequality within the economic and social systems of the United States. Fordjour's lush and textured paintings amount to a comprehensive worldview, shifting scales from the communal to the individual to the pastoral.
Blum & Poe exhibition, "Parergon", is a selected survey exhibition of Japanese art of the 1980s and '90s. The exhibition focus' on the themes of abject politics, transcending media, performativity, and satire and simulation. "Parergon" brings together some of the most enigmatic works that were first generated during a rich two-decade period that are pivotal to the way we perceive and understand contemporary Japanese art today.
Morán Morán's exhibition of Keltie Ferris: "RELIEF" series paintings are made using acrylic and oil, spray gun and brushes, as well as ensure and impasto. With a variety of scales, these energetic abstractions feel spontaneous and quick, suggestive of water or sound waves. As a result, notions of movement, speed, and technology come to mind when viewing the work.
Studio Visit with Liza Lou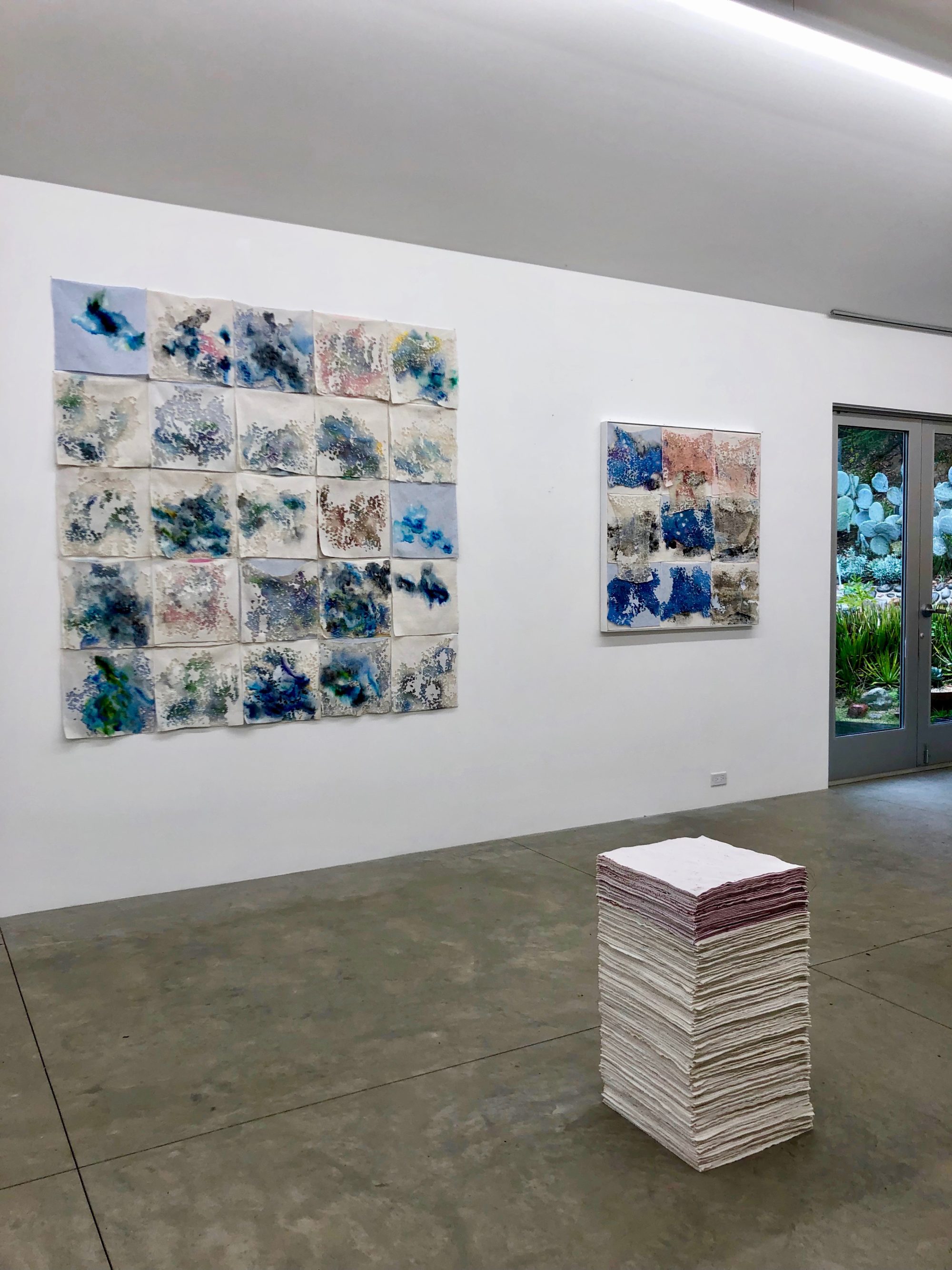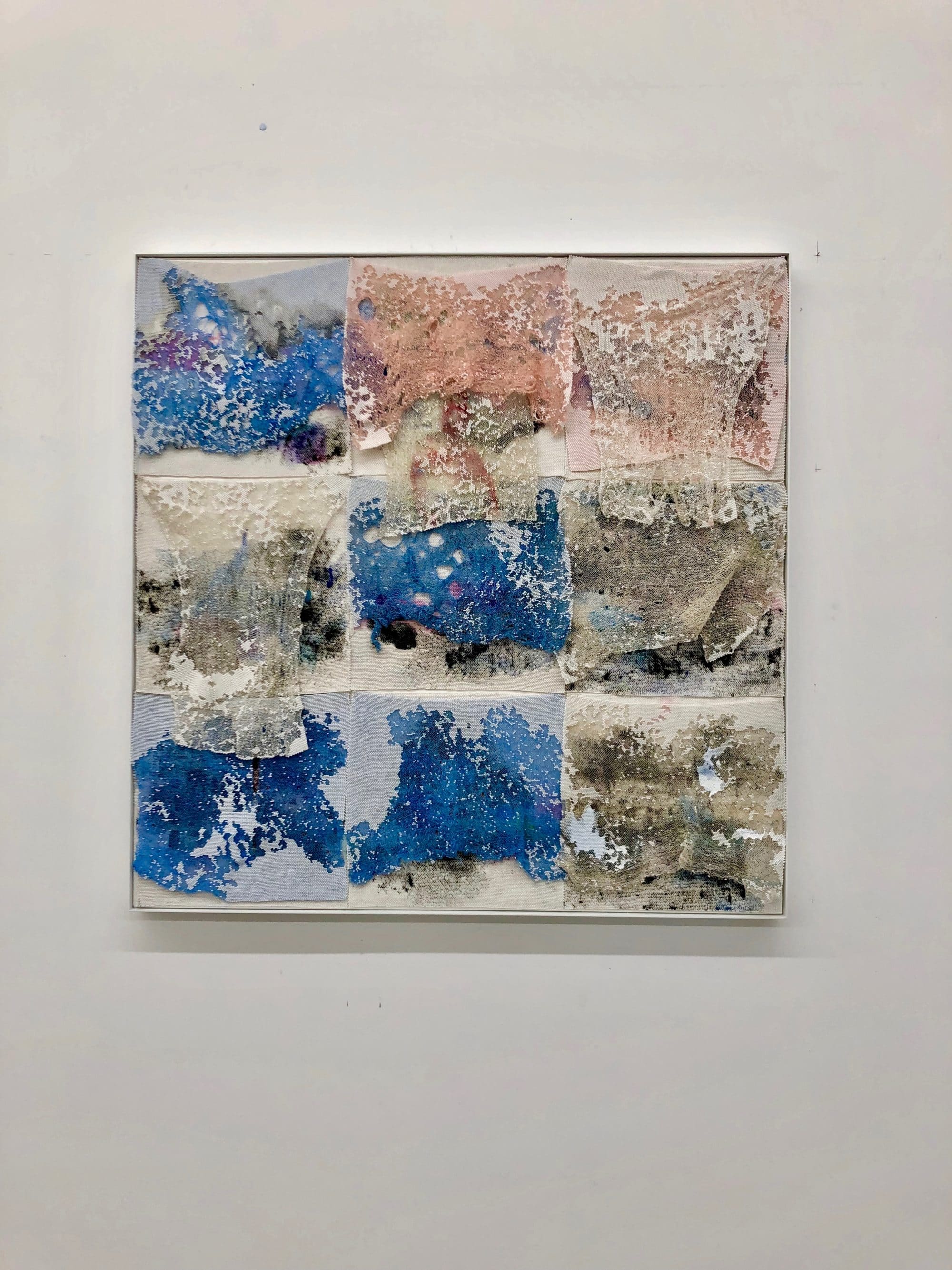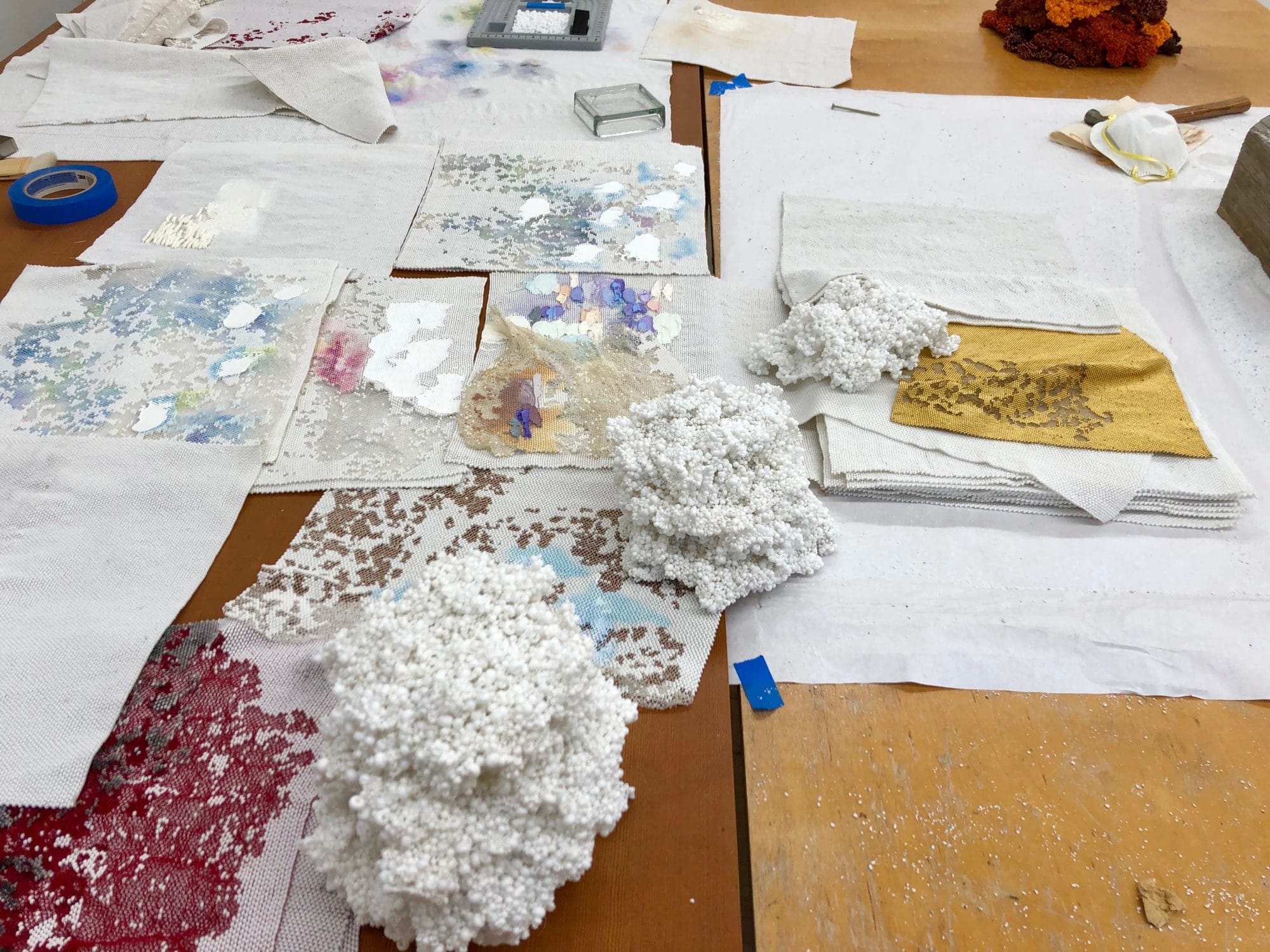 We treasured our visit with Liza Lou in her beautiful studio in Topanga Canyon. Lou has worked in partnership with women beaders in South Africa in the production of her work. While the work is her own, each beader leaves their 'signature' evidenced by their unique labor and hand. Lou is a thoughtful and adventurous artist who never stops learning. She continues to push both her artistic practice as well as exploring new ways to improve the lives of women throughout the process of making her work.