October 1 to March 26 – Jeffrey Gibson: This Burning World at ICA SF:  Jeffrey Gibson's multimedia practice synthesizes the cultural and artistic traditions of his Cherokee and Choctaw heritage with the visual languages of Modernism and themes from contemporary popular and queer culture. His exhibition at the new ICA SF – THIS BURNING WORLD speaks to the urgency and importance of our collective relationship to the planet. It places the earth under the ICA SF building in dialogue with video of the natural world beyond the walls.  ICA SF is located at 901 Minnesota Street in San Francisco.
October 5 to March 5 – The New Black Vanguard: Photography Between Art and Fashion at MoAD:  Curated by New York critic and curator Antwaun Sargent this exhibition highlights the work of 15 contemporary fashion photographers—from London to Lagos, New York to Johannesburg—whose images present radically new perspectives on the medium of photography and art, race and beauty, and gender and power.  The exhibition includes over 100 select works from these groundbreaking artists, including Campbell Addy, Arielle Bobb-Willis, Micaiah Carter, Awol Erizku, Nadine Ijewere, Quil Lemons, Namsa Leuba, Renell Medrano, Tyler Mitchell, Jamal Nxedlana, Daniel Obasi, Ruth Ossai, Adrienne Raquel, Dana Scruggs, and Stephen Tayo, as well as images created by other young artists contributing to this movement. MoAD is located at 685 Mission Street.
Opening October 7 – In to View: Bernice Bing at the Asian Art Museum:  This exhibition features the museum's recent acquisition of 20 paintings and works on paper that shine a light on an important local Asian American artist who has only recently gained broad recognition for her achievements. These works reveal the evolution of Bing's remarkable practice, from paintings of the 1950s and 1960s that straddle Abstract Expressionism and figuration to work from the 1980s and 1990s that explores a synthesis of Zen calligraphy and Western abstraction.  The Asian Art Museum is located at 200 Larkin Street in San Francisco.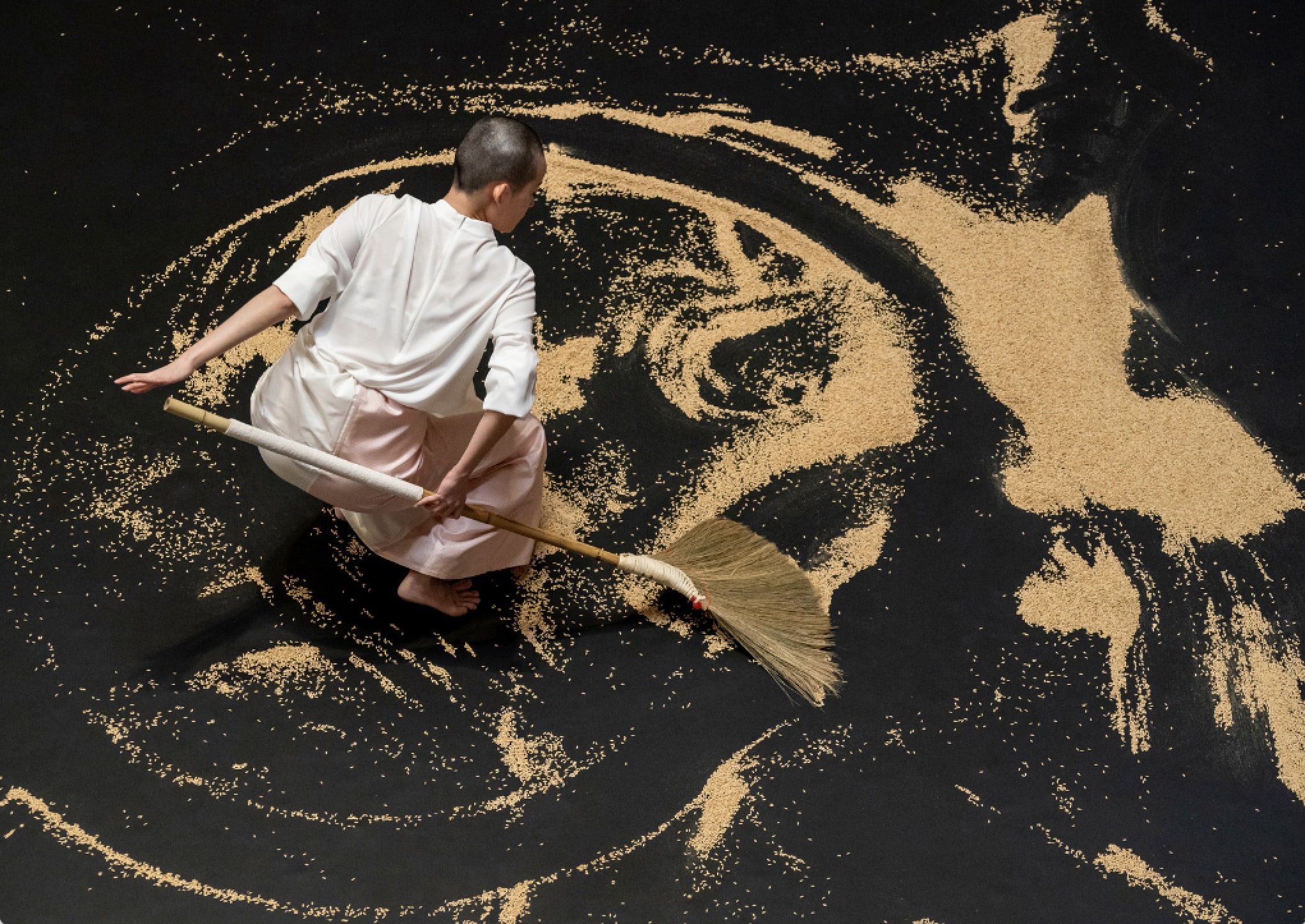 Saturday, October 8 starting at 12 noon – Our Labyrinth for Grace by Lee Mingwei at Grace Cathedral:  Grace Cathedral's 2022 Artist in Residence is the New York and Paris-based Lee Mingwei. Lee creates participatory installations, infused with beauty and ritual, where strangers can explore issues of trust, intimacy, and self-awareness. The culmination of his residency will be Our Labyrinth For Grace, an epic twelve-hour performance by three dancers, with introductory music by the Men of the cathedral's Choir of Men and Boys, and a finale by organist Susan Jane Matthews.  Grace Cathedral is located at 1100 California Street in San Francisco.
Saturday, October 15 from 3:00 – 9:00 pm – Monster Drawing Rally at Southern Exposure: The Monster Drawing Rally is an incredible afternoon of artmaking and fundraising where over 100 artists create brand new work right before your eyes in a frantic race against the clock. As you spy on the creative process, you'll see sketches morph into full-fledged artworks – immediately available for just $100 each.  This event combines the energy of a monster truck rally with the creativity and brilliance of the Bay Area art community.  Southern Exposure is located at 3030 20th Street.
Sunday, October 16 from 12 to 6pm – 40th Edition Open House at Headlands Center for the Arts:   This is a special 40th anniversary edition of Open House. Along with an opportunity to roam the various buildings of the campus, meet current artists, and experience works in progress, the day will feature film and performances by Headlands Alumni, including jazz musician Beth Custer (AIR '98, '91), and dance collective Fog Beast. Also on view in the Project Space are installations by Artists in Residence Hannah Jayanti and Weston Teruya.  Headlands Center for the Arts is located at 944 Simmons Road in Sausalito.
October 20 to April 2 – Brett Cook & Liz Lerman: Reflection & Action at YBCA:  Visual artist Brett Cook and choreographer Liz Lerman turn YBCA's galleries into a space for collective creation and inspiration guided by their intuitive desire to forge new paths in their respective fields. Featuring video, dance, installation, paintings, and more, audiences are encouraged to explore Cook and Lerman's artistry as catalysts for enacting collaborative change in the world.  YBCA is located at 701 Mission Street in San Francisco.
Ongoing to February 26 – Mildred Howard: The Time and Space of Now at the San José ICA:  Centered around the first-ever Bay Area presentation of Mildred Howard's film "The Time and Space of Now" (2021) in the ICA's Cardinale Project Room, the solo exhibition features three multi-media installation pieces exploring the triangulation between time, space, and the migration and movement of people.  The film was created following Howard's discovery, amongst materials left by her mother, of 8 mm. film that had been stowed in a purse for decades. It is composed of archival footage Howard took as a 14-year-old girl in Texas, interspersed with material shot on the beach in Alameda, and augmented by a fictional, unscripted, metaphysical dialogue between the artists Dewey Crumpler and Oliver Lee Jackson. The work illuminates storytelling, borders, migration, and the interconnected nature of time and space.  San José ICA is located at 560 S First Street in San Jose.