Ongoing to December 12 – Diana Markosian: Santa Barbara at SFMOMA:  Diana Markosian's Santa Barbara explores the nature of family and the American dream. Through a series of staged photographs and a narrative video, the artist reconsiders her family history from her mother's perspective, relating to her for the first time as a woman rather than a parent, and coming to terms with the profound sacrifices her mother made to become an American.  SFMOMA is located at 151 3rd Street, San Francisco.
Ongoing to January 29 – Megan Ripenhoff: Ice at Haines Gallery:  This exhibition of new and recent cyanotypes created in winter landscapes, from the snow banks of Aspen to remote creeks in western Washington. Expanding on her earlier bodies of work, Riepenhoff's Ice works are created in collaboration with the elements. As they make contact with photographic materials, weather and water work together to produce lush, complex surfaces that invite us to consider the power and grace of the natural world.  Haines gallery is located at 49 Geary Street, San Francisco.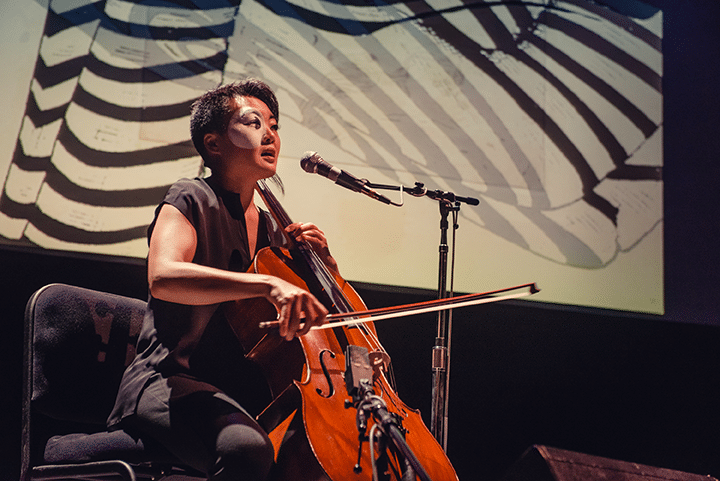 Saturday, December 4, 5pm  – Memories to Light: Never Brighter at McEvoy Foundation for the Arts:  McEvoy Arts commissions local composers Danny Clay and Theresa Wong to compose and perform an experimental score for Memories to Light: Never Brighter, a film by documentary filmmaker Chet Canlas. In Canlas's film, digitized 8mm and 16mm home movies of authentic scenes of Asian American life come together with images and clips from the Manilatown Heritage Foundation's extensive archive. Drawing inspiration from the filmic collage, Clay and Wong work collaboratively to create a richly textured composition that bridges field recordings, spoken word, and live improvisation. The immersive physical space filled by the power of performance and the possibility of togetherness.  Purchase tickets here.
Ongoing to December 18 – Sara VanDerBeek: Chorus at Altman Siegel Gallery:  With this new work, VanDerBeek addresses complicated contemporary relationships to the body while exploring her ambivalence toward a gendered understanding of adornment and the ideals of female beauty proposed by these classical forms. Photographing within encyclopedic and historic museums over the last decade, VanDerBeek has collected a significant archive of images. Previous interventions into this archive focused on digital manipulation; including compositing and adding layers of saturated color. Now the artist returns to her earliest methods of image interpretation, applying hand coloration as she paints directly on the surface of her own photographs.  Altman Siegel Gallery is located at 1150 25th Street, San Francisco.
Ongoing to January 29 – Martine Gutierrez: Half Breed at Fraenkel Gallery:  Acting as both subject and producer, Gutierrez explores the multiplicity and complexity of identity in a series of pop-influenced narrative scenes. The exhibition, which takes its name from Cher's 1973 album, will include selections from three recent series, Body En Thrall, Plastics, and Indigenous Woman, the 124-page magazine for which Gutierrez acted as muse, model, photographer, and art director, creating every element from fashion spreads and ads to an editor's letter.  Fraenkel Gallery is located at 49 Geary Street, San Francisco.
Ongoing to June 26 – Our Whole, Unruly Selves at San José Museum of Art:  This exhibition celebrates the boundlessness of human beings through an exploration of artistic figuration. The human form has inspired artists throughout history, and the desire to represent and respond to the nuanced experience of existing within a specific body continues to drive new visual languages and approaches. While the inclusion of underrepresented bodies has been a critical step in diversifying museum walls and collections, many artists who experience oppression and erasure—whether due to race, sexual orientation, disability, or immigration status—resist or recast the burden of representation, as the pressures of both hypervisibility and invisibility can eclipse the complexity of lived experience.