We are pleased share some highlights from our recent trip to New York.  Included are selections from multiple art fairs, exhibitions at various galleries, and a very memorable studio visit.
Art Dealers Association of America Fair (ADAA)
This body of work underscores Opie's ongoing dialogue with the history of photography and investigation of American identity.  Opies's Yosemite photographs and her delightfully surprising ceramic sculpture were shown for the first time at the ADAA fair. The ceramic tree stumps allude to the handmade nature of early photography, evoking both the physical process and chance outcomes that shaped the field. 
The Armory Show
In his sculptural work, Jeffrey Gibson uses the technique, craft, and material of his Native American heritage while simultaneously appropriating the text of adjacent cultural production: literature, pop music, sermons, hymns. The results are bold, composite art pieces melding history and the ephemeral, locked-down, beaded, and bedazzled into three-dimensional space. The experience is both cataclysmic and layered.
Havana artist, Reynier Leyva Novo's work proposes a very personal way of facing History. Whether from the premises of video, photography, installation or object production, his gaze is marked by the postmodern tendency to promote subjectivism and alternative discursive lines. "SOUP (Survival Objects Under Pressure)" are soup spoons with quotes from hunger strikers and political prisoners from various places and eras.
Independent Art Fair
Gabriel de la Mora collects detritus and ephemera ranging from found photographs to shoe soles, and pieces of painted ceilings. He transforms these objects using meticulous craftmanship to call attention to their original uses, while also making conceptual investigations into the nature of art.
Eamon Ore- Giron uses his practice to explore the possibilities of transmutation, how concept and form morph and adapt as it moves between languages, cultures, and political systems. Using a vocabulary that consists of basic and geometric forms, Ore-Giron generates a pictorial language to eliminate the vestiges of representational imagery. His paintings reference a meticulous approach to the handmade, using a combination of raw linen and a palette rooted in tones of red and orange to lend an intrinsically organic feeling to his otherwise minimal compositions.
New Art Dealers Alliance (NADA)
Kate Tucker builds slab-like substrates through repetitive layering of various materials. Rather than working within a defined area and surface, each layer becomes an opportunity to change the form as well as the content of the work. The result is a series of "tablets", irregularly shaped paintings that represent an accumulation of numerous material based experiments, rather than the realization of a pre-conceived idea of a painting.
Amanda Valdez works in a matrix of gestures, styles, and materials referring to visual cultures that are both western and non-western. Valdez pulls from a variety of histories, from quilting and sewing to tiling and brick-laying as well as gestural painting. Her works operate as a reflection of the body, and the histories that the body holds in its physical makeup: scars, sags, symmetries and asymmetries, and a lifetime of emotions.
Orkideh Torabi created an installation of custom designed wallpaper as a backdrop to her paintings for her solo booth at NADA. Torabi imagines herself as a director who, through painting, re-situates the power dynamics of patriarchal society in her native Iran. Rendered with simple button-like eyes, injured or missing noses, unnatural skin hues, and tacked-on mustaches, her unabashedly humorous paintings imbue the protagonists with an emasculated and clown-like state of being. She juxtaposes her cartoonish images of contemporary against vivid patterns that are influenced by Persian miniatures, small yet highly detailed illustrations that have been an integral part of Iranian culture since the 13th century. In doing so, Torabi makes explicit that the past and present become interwoven. Using fabric dye on cotton fabric through an idiosyncratic transfer process that generates saturated surfaces, Torabi's paintings have a batik or watercolor-like fluidity in which her men revel.
Arno Beck's uses four Olivetti typewriters to make his works, which have evolved from the contemplating contemporary digital culture while keeping the tradition of painting in mind. His approach of experimental printmaking and conceptual painting is an interplay between the virtual computer world and traditional artistic techniques. The motifs are based on his interest in early low resolution computer graphics and Super Mario World.  Focusing on the analog production of computer generated imagery and celebrating the flaws in the prints, he transforms digital images into the pictorial space capturing digital aesthetics with seemingly painterly means. 
Using abstracted still life and interior motifs, Angelina Gualdoni's paintings explore the fluidity and ephemerality of light, space, and the passage of time. Gualdoni begins her paintings by pouring liquid paint or dye directly onto the canvas, creating overlapping layers of capricious and unpredictable ground. Thicker daubs of paint and impasto brushwork compete with delicate poured areas, creating a vibrating tension as spaces both jump forward and recede.Gualdoni also incorporates fragmented geometric patterns, which add a meandering structure. The subject becomes not only Gualdoni's semi-articulated vases and windows, but the complicated play between background and foreground.
Galleries
Sarah Crowner's site- specific work involves stitch paintings and platforms based on architectural references from the compositions in her paintings. The canvases are presented in direct dialogue with the platforms, which are inspired by Carlo Scarpa, who designed the Sculpture Garden of the Italian Pavilion at the Giardini in Venice. Crowner re-imagines a dense overhead object into lightweight, floor-bound plywood staging.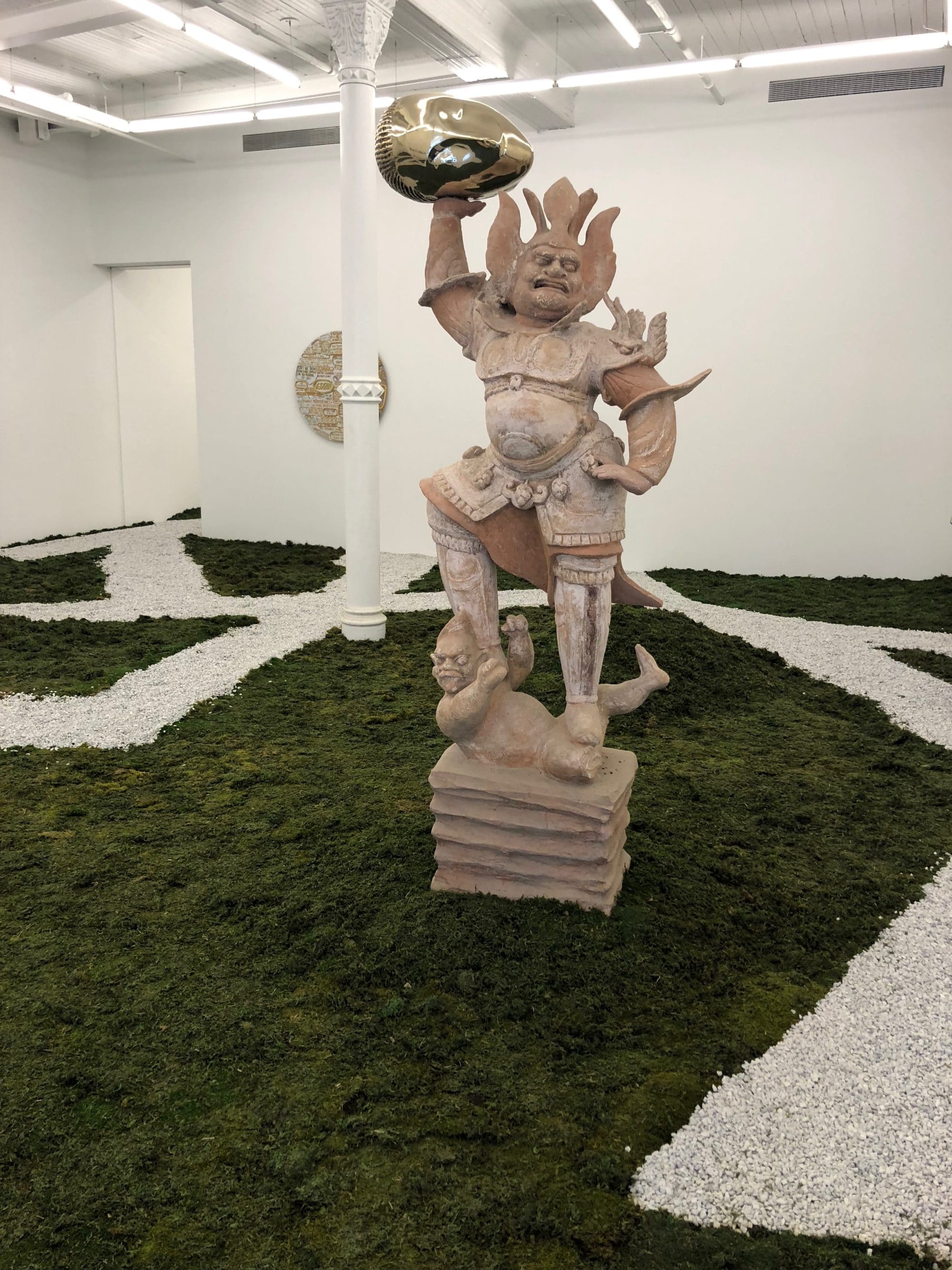 Xu Zhen, "Eternity – Painted Terracotta Statue of Heavenly Guardian, Sleeping Muse", 2016. At James Cohan Gallery.
This exhibition is a series of installations that began in 2013 and act as an ongoing exploration of protest and popular expression. Zhen creates the installations using white pebbles and green grass to create a network of criss-crossing but delineated paths, which diagram the route of several protests throughout the globe. In the gallery, pathways and sod-covered ramps transform the space. The intersecting trails are visually appealing but do not indicate a single way of moving through the space. There is no logical end point. The aesthetic confusion of the trails reflects the frenetic energy, and frequent frustration, of large or small protests.  Although the paths are inspired by actual marches, Zhen insists that the demonstrations remain unidentified so that no iteration of the project is privileged by its historical antecedent. The exhibition also features works which are sculptural amalgamations of Eastern and Western art.  These works bridge cultures and time to create striking new forms. "Eternity – Painted Terracotta Statue of Heavenly Guardian, Sleeping Muse" combines an ancient Chinese statue with Constantin Brancusi's Sleeping Muse. The conscious reproducibility in work is both a cynical critique of art's commodification and an optimistic step towards its democratization.
A founding member of the Mexican Contemporary Art scene, Eduardo Terrazas employs a system of geometric permutations as a means of communicating broader, intangible themes. The mathematical processes applied to forms mimic the design process of nature, where patterns unfold with incessant variations. The Huichol yarn technique is important to point out in Terrazas' work. The technique, whereby colored yarn is arranged on wax-covered boards, has been adopted by Terrazas not only for its aesthetic properties, but also due to its process, which requires absorption in the act and therefore offers a kind of meditation.
Frank Thiel's new series of photographs focus on the generation of young women born in Cuba in the year 2000 as they celebrate their 15th birthday, a common rite of passage in Latin American cultures. The photographs are about a  transition in these women's lives, as they take place in Cuba, a place where futures are uncertain but where hopes are high.
Claudia Wieser's exhibition includes multi-faceted mirrors, hand-painted ceramics, and carved wooden sculpture.  Wieser also incorporates the architecture of the exhibition space, drawing with gold leaf directly on the wall, ceiling and floor, blurring compositional boundaries.  Wallpaper and tapestry, patterned with Gothic and Baroque interiors and paintings, further serve to set the stage, acting as both backdrop and actor. Both meticulous and delicate in her process, Wieser's hand is evident in the work.
Richard Aldrich's loose, abstract compositions address his own personal history and the way that humans organize information through the formal language of painting, freely citing various aesthetic tropes with humor and irreverence. Visiting this exhibition is like being in Richard Aldrich's brain. Some works are beautiful and painterly and some feel more like notes or thoughts.
This small painting, included in the exhibition at Bortolami Gallery, is from Richard Aldrich's own collection from which he draws inspiration.
The Drawing Center partner's with an artist or organization whose mission it is to explore the transformative role that drawing can play in civic and global societies. Artist Torkwase Dyson created an installation that analyzes her own formal concept of "Black Compositional Thought" through abstract drawings that confront issues of environmental justice and the path towards a more equitable future. The exhibition is very thoughtful and the sculptures included in the exhibition bring the viewer into the drawings.
Studio Visit with Marilyn Minter
On International Women's day we were lucky enough to visit artist Marilyn Minter's studio. Minter, who insightfully states that "you need to be a little delusional to be an artist", describes herself as a surface fanatic— the paintings are layers of translucent enamel and the last layer is applied using only her gloved fingers instead of a brush. She says, "there's this glow that comes with these paintings that doesn't happen with oil or acrylic". Her complex process for each painting, which takes anywhere from 6 months to a year, starts in a photo studio using dramatic lighting and a photographic depth-of-field that produces blurred transitions and effects. She then Photoshops the images and uses these as compositions for her paintings. Minter noted that she is really great a Photoshop— "for my age I am a fucking genius", she hilariously stated.