Ongoing to April 5, 2014 –  Approaching Zero – At the Frontier of Contemporary Printmaking at Kala Art Institute: Curated by Mayumi Hamanaka, Approaching Zero celebrates artists who are each uniquely utilizing print-making in new and exciting ways.  The show features work by artists Miguel A. Aragón, Stella Ebner, Zarina Hashmi, Walter Jule, Koseki Ono and Katsutoshi Yuasa.  The gallery is open Tuesday – Friday, 12:00 – 5:00 PM; Sat, 12:00 – 4:30 PM, admission is free.  Kala Art Institute is located at 2990 San Pablo Avenue Berkeley, CA.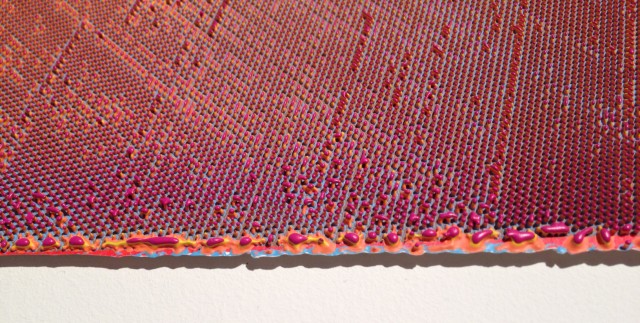 Thursday, March 13 – Above and Below the Surface Panel Discussion at John Berggruen Gallery 6:00PM: McArthur Binion, Thomas Eggerer, and Josh Tonsfeldt will be discussing their work featured in the gallery's group show.  Above and Beyond the Surface explores varying techniques and approaches to the painted surface.  In addition to the three panel artists, the show features work by Tauba Auerbach, Troy Brauntuch, Charline von Heyl, Suzanne McClelland, and Sarah Morris. Please RSVP by March 10th by emailing becky@berggruen.com. John Berggruen Gallery is located at 228 Grant Ave. 
McArthur Binion does beautiful cross-hatched, multi-media surfaces that read as paintings. Decidedly minimal, Binion's work embodies a strong intellect rooted in the expressive capabilities of color and abstraction. He cites his work's narrative in the use of his hands to make his paintings, and his choice of child-like materials – wax crayons – which he presses onto shaped panels. The use of the crayon as medium renders a critique to the history of painting the ability to transform the ordinary "child's medium" into a tool that can render complex studies of color and light.
Thomas Eggerer blends abstract and figurative imagery in vivid, dreamlike fields of color. His new canvases, all of them large-scale, build on his signature approach with figures rendered within otherworldly realms, absorbed in their actions that remain rather mysterious. His figures, with undefined faces and broadly applied forms, are more anonymous than individual, cast in candied colored planes of abstraction.
Josh Tonsfeldt has a storyteller- meets- archeologist's sensibility. They are part of a series that relate to his visiting his Grandparents farm as the family ceased to own it, and then collecting fragments and notes and photos that are then incorporated into beautiful crusty "paintings" on paper with these remnants, bits of memory and sometimes script, included in, or hidden below, the surface. He has also cast partial architectural elements of the now deserted buildings.
Saturday, March 22 –  Annual Fundraiser and Art Auction Smoke and Mirrors at Southern Exposure: Southern Exposure's annual event features both live and silent auctions of work by over 100 artists and a variety of artist-led experiences. The annual fundraiser provides support for Southern Exposure's programs and enables SoEx to continue supporting artists, presenting groundbreaking programs and serving as a center of visual arts activity in the Bay Area.  Southern Exposure is located at 3030 20th Street.
Event Schedule:
VIP Reception 6:00 – 7:30 PM
Main Event 7:30 – 11:00 PM
Live Auction 8:30 – 9:30 PM
Silent Auction Lots begin to close at 10:00 PM
Ongoing to March 23 – ArtComplex Pop up Exhibition in Oakland: Twelve East Bay artists are making site-specific work in twelve rooms of a two-story former medical office including video, installation, 2D and 3D art.  Artists include Nyame O. Brown, Lisa Carroll, Modesto Covarrubias,  Amy M. Ho, Amanda Klimek, Chelsea Pegram, Matthew Scheatzle, Karen Seneferu, Malik Seneferu, Brett Snyder, and Tiulescu & Neyman.  Works are on view on Saturdays and Sundays from 12:00 – 4:00 PM.  Artcomplex is located at 560 29th Street (between Telegraph Avenue and the 29th Street freeway underpass).