We are happy to share some highlights from our recent time in Los Angeles.  We saw some important gallery shows, went to the Art Los Angeles Contemporary Art Fair (ALAC), visited two artist studio and saw an exciting exhibition at the Los Angeles County Museum of Art (LACMA)…
Galleries
We were thrilled to see Brooklyn-based painter Mira Dancy's nearly sold out show at Night Gallery. Dancy's larger than life, vibrant paintings felt like characters in a theater production.
Anat Ebgi's AE2 space featured a 2-person show with Katherine Bradford and Jen de Nike. We loved this jewel of a painting by Bradford in her typical style merging abstraction with representational motifs. She has an interest in the universal and psychological quality of water as a prevalent element.
In this group show at Roberts Projects, whether the artist's work is abstract or figurative, it relates to both representation and movement. Among a grouping of ceramic works, this more graphic piece by Jeffrey Gibson is an example of his more autobiographical cultural inflection.
Hugh Scott-Douglas's immersive show at Blum and Poe includes works which he creates using Fleetmon software which tracks world-wide trade routes. His work is often inspired by cinema and the "mechanics of the picture".
Rudel's works at Baik Gallery reflect his life-long relationship with the natural world and the clashing interventions of societal conduct. We loved the 'trick' of this piece where if you dropped a marble in the top hole, it comes out the bottom.
Another carved work, this one inspired by the Alhambra.
The making of ceramic pots connects the artist to the place where they are and to the materials around them. Locally harvested clays, crushed shells, beach glass and salvaged wood ash are the base for the glazes that appear on the often pitted, flaked and cracked surfaces of Silverman's work. Silverman says his pieces contain traces — ghosts or shadows — of their ingredients and processes. Their present appearance offers a parallel glimpse into their past lives. A great installation at Cherry & Martin.
The exhibition at LA Louver brings together sculptures by established as well as emerging artists, whose works focus on essential materiality and form. Even when representing diversity in approaches and techniques, there is a continuity and unification of structural language that unfolds throughout the installation.
Ellen Gallagher's work at Hauser & Wirth Gallery examines the complex histories of the Black Atlantic and the afterlives of the Middle Passage. The layered surfaces of her works become a kind of reckoning, evoking, in the artist's words, 'the way sailors mark their location at sea, determined by return.'
Honor Fraser Gallery is featuring the work of 95 year old, Miriam Schapiro. Schapiro is known for creating large collages and digital imaging as a way to experiment with color, shape, and space. Experimenting with computers and physicists in the late 1960s and 70s, Shapiro explores the dimensional possibilities of her own paintings in order to create new ones.
When a visit to LA includes a Robert Irwin installation, all is well in the art world. This is a site specific work at Sprüth Mager's Wilshire space. This installation explores perception and the conditions of art viewing.
Art Los Angeles Contemporary Art Fair (ALAC)
Ebner's artwork takes various modes of language—including poetry, symbols, and political rhetoric—and reconciles them through the lens of photography, thereby critically examining the limits and ambiguities of language and representation.
Hilary Pecis' paintings celebrate the joy of discerning and interpreting patterns in the everyday world.
Pittman challenges the idea of monochromatic painting or geometric abstraction being flat arrangements of shapes applied to a single surface. Intersecting lines suggest painted divisions of shapes, but prove to be shadows cast due to the slight separation in height between the panels constructing the painting's surfaces and frame. Each piece becomes a painting in relief; a composite of multiple flat, painted surfaces, rather than a single flat, painted surface.
Using staged scenes and digital interventions, Valenzuela's work is rooted in the contradictory traditions of documentary and fiction, often involving narratives around immigration and the working class.
Debra Scacco's practice is based around a conversation between memory, language, impulse, and control, driven by the persistent need to (re)discover permanence in a contemporary life that is by nature always in transition. Scacco's work is both overtly emotional and highly systematic. We love how the brass backing peeks through the paper.
Sarah Awad's work is a vividly colorful and sensual exploration of the female nude. Awad depicts her female subjects floating in indeterminate landscapes, as amorphous masses moving freely across the surface of her canvas. The work celebrates the vitality and expressiveness of the human form.
Prvacki's work draws on daily practices and social research. Her interventions are meant to transform the viewer's perception and experience of daily life and routine, providing solutions to our everyday problems, worries, and fears around social anxiety.
Studio Visits
Anthony Pearson
We're in process on a public art project in the East Bay with LA based artist, Anthony Pearson. Anthony's natural light-filled studio is part artist's studio and part science lab where intention and experimentation go hand in hand.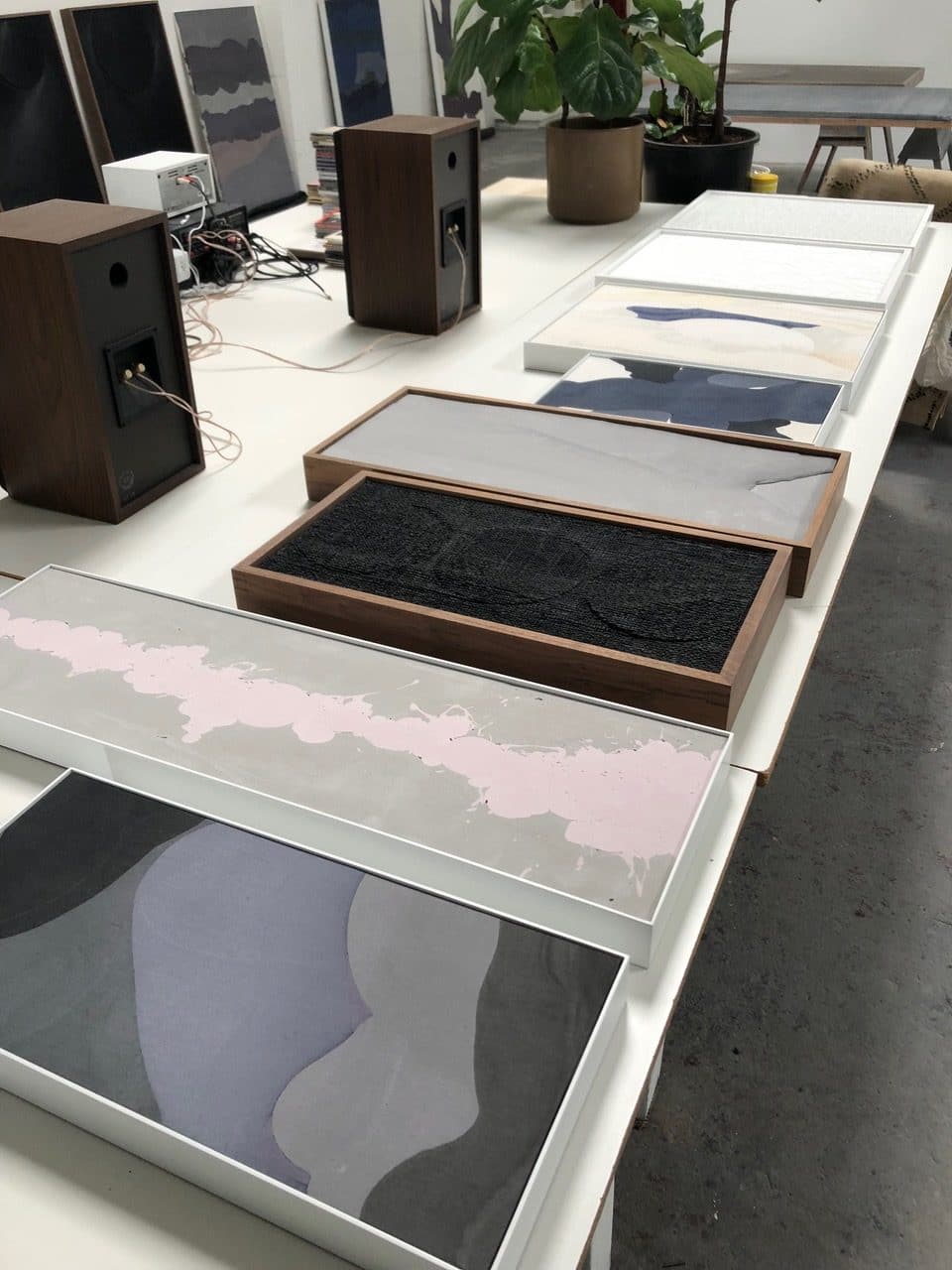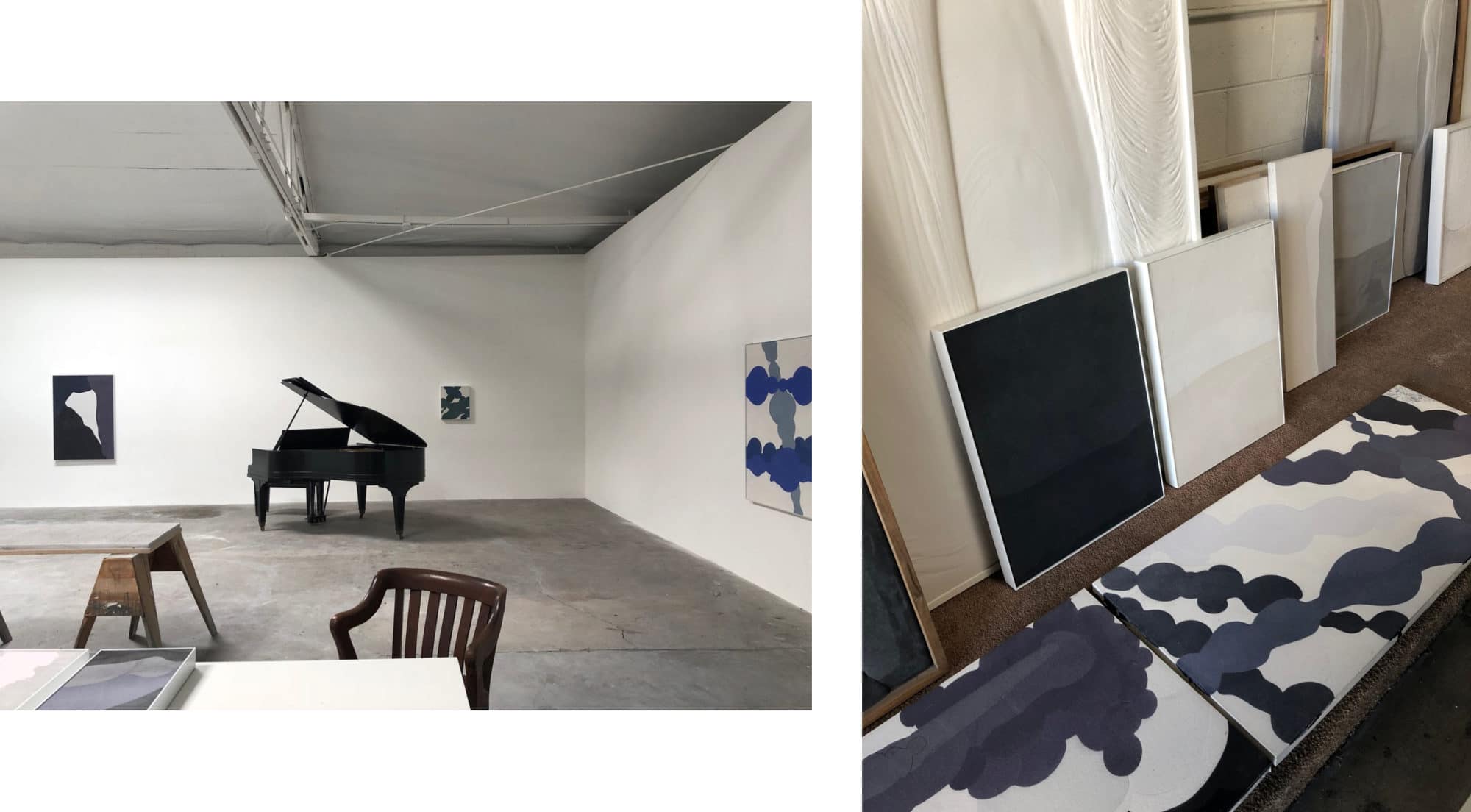 Nathan Mabry
We had a great visit with sculptor, Nathan Mabry. While having studied ceramics, his diverse practice involves a broad range of sculptural mediums. What knits them together is a reference to ancient history and its context in contemporary art. Humor and curiosity are almost always evident in Nathan's work.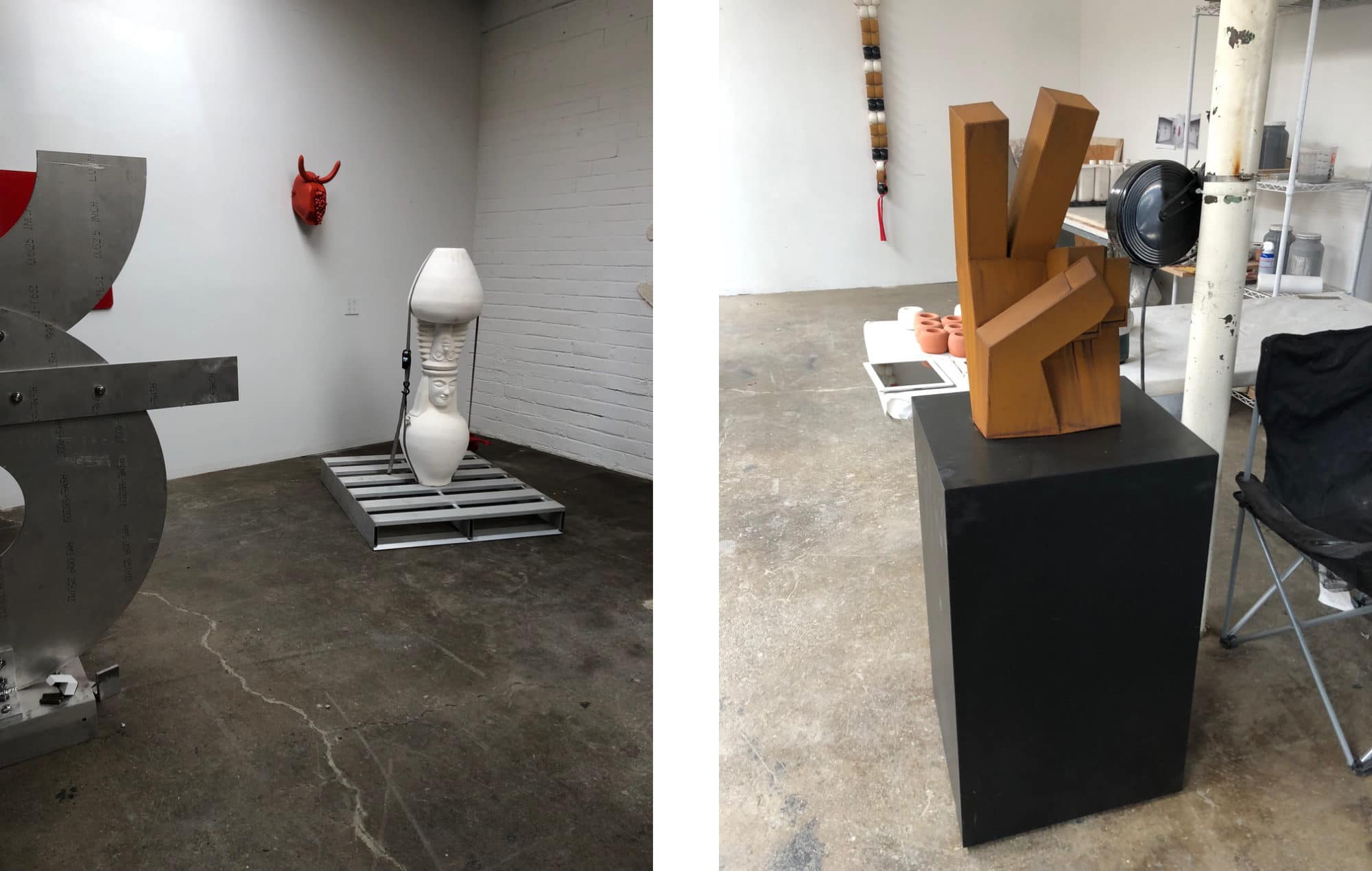 Los Angeles County Museum of Art (LACMA)- Sarah Charlesworth: Doubleworld
The exhibition, Sarah Charlesworth: Doubleworld, at LACMA offered a rare chance to delve deep into the legacy of the Pictures Generation (the term referring to a group of artists, including Sarah Charlesworth, who took strides 40 years ago to understand and critique the role pictures play in the formation of human identity) by examining  a monumental selection of work from one of its most influential pioneers. Today we are so inundated with pictures that it almost seems quaint to see them as something separate from reality. Everywhere we look there is a device or a surface connected to a steady stream of pictures of the world as it is, as it was, as it could be, as it should be, as it never was and never will be. But 40 years ago, this was not the case. Photo manipulation was not easy, nor was access to pictures from other places immediate. But the industry that eventually grew into that which so effectively controls our way of seeing today was definitely beginning to hit its stride, and the artists that were part of the Pictures Generation were pioneers in the quest to understand it. Charlesworth has produced a body of work that continues to inspire contemporary artists and viewers who are drawn to our increasingly image-saturated culture.
Charlesworth photographs isolated objects in front of monochromatic backgrounds, arranging objects and images in the studio, and testing the possibilities of photography's central component- light. She uses natural light to produce luminous images with subtle palettes of white, silvers, and blues.