September 9th – March 21st, Constructive Interference: Tauba Auerbach and Mark Fox, Anderson Collection at Stanford University: In appreciation of the Anderson family's commitment to mid-career contemporary artists and in celebration of the fall 2015 opening of the McMurtry Building for the Department of Art & Art History, the Anderson Collection will present a focused exhibition in the Wisch Family Gallery of works by Tauba Auerbach and Mark Fox. Both graduates of Stanford University, these artists explore ideas of process, material manipulation and chance. Auerbach received her BA in Visual Studies in 2003, and Fox received his MFA in 1988. The exhibition will be comprised of drawings, prints, paintings and sculpture. These works, on loan from the Anderson family, will reflect a variety of working methods employed by Auerbach and Fox.
September 9th – January 18th, Artists at Work, Cantor Center for Visual Arts at Stanford University:  The Cantor Arts Center presents a major new exhibition, Artists at Work, which examines how artists become inspired, how artists make objects and how place impacts artists' work. This major exhibition of more than 70 works features a close examination of the museum's expansive permanent collection and includes works by Édouard Manet, J. M. W. Turner, Thomas Hart Benton, Sol LeWitt, Richard Serra, Ansel Adams, Edward Weston and other renowned American and European artists. Also included are loaned works by contemporary artists Trevor Paglen, Garth Weiser, Hope Gangloff and Rachel Owens, among others.
September 9th – October 10th, Clare Rojas: New Work & Bruno Fazzolari: Seyrig at Anglim Gilbert Gallery: Rojas' new paintings feature abstract forms at play in space.  Her new forms and distilled color palette of strong slightly-off-primary hues with black are at rest against a soft pale ground, contained but energized.  Rojas has moved further toward precision and reduction, and her refined shapes appear linked, practically animated with their own properties– of character or personality?
Bruno Fazzolari's exhibition will include paintings and a perfume, as well as the first sculptures he has shown in 14 years. Fazzolari's work explores perception and the senses, and engages his own experience of synesthesia and abstraction. He also is inspired by the visual culture and history of perfume. His work as a perfumer has garnered strong acclaim and numerous awards. His last perfume shown with the gallery earned four stars from the eminent (and notoriously feisty) perfume critic, Luca Turin.  Opening reception Thursday September 10th 5:30 – 7:30 pm.
September 12th – October 17th, Andy Diaz Hope: Content Void Content & Kara Maria: Haywire, Catharine Clark Gallery:  New work by Andy Diaz Hope in the main galleries, and a collaborative media room project with Jon Bernson. The exhibit features mirrored sculptures which combine ancient mathematics, traditional craft and modern technology to explore unlikely sources of transcendence.  Also on view are new paintings by Kara Maria which blend abstract and representational traditions in a visual dialogue about the bizarre, precarious, and yet alluring state of our environment.  Opening reception for both exhibits is Saturday, September 12th 2-5 pm, with an artist talk at 3pm.
September 12th – October 10th, Jay DeFeo: Alter Ego, Hosfelt Gallery:  An exhibition of 55 paintings, photographs, collages and drawings – 46 of which have never been exhibited before – traces relationships between pairs or groups of works, examining ideas of the doppleganger and yin yang in Jay DeFeo's oeuvre.  Opening reception Saturday September 12th, 4-6 pm.
September 12th, 7-11 pm, The Big Bash, Root Division's Grand Opening:  The Big Bash is the grand opening of Root Division's bigger, better, brighter new home at 1131 Mission Street (at 7th Street). In celebration of their new Mid-Market home, you are invited to participate in hands-on art activities, engage with artists featured in the Inaugural Exhibition RESONATE, and explore our new multi-story, more spacious and dynamic brick-and-mortar facility.
September 16th – December 13th, Public Works: Artists' interventions 1970s–Now, Mills College Art Museum: This exhibit examines strategies of public practice by women artists from the 1970s to the present. The exhibition presents audio, documentation, ephemera, photography, prints, and video from a number of important historic and contemporary projects that explore the inherent politics and social conditions of creating art in public space. Opening reception September 16th from 6-8 pm.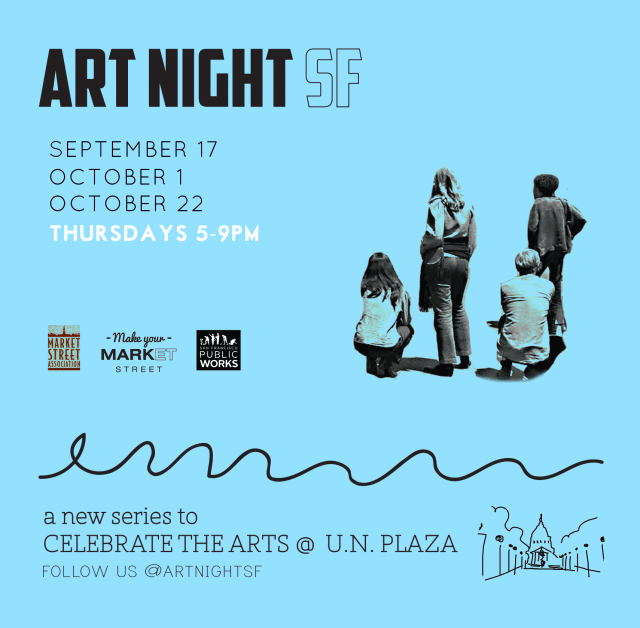 September 17th, 5 – 9 pm, Art Night SF at U.N. Plaza: Art Night SF is a series of art happenings in September and October that will be located in U.N. Plaza, adjacent to Civic Center and Market Street.  The events aim to be a dynamic platform for creative expression and cultural exchange in the emerging Central Market Arts District.  Contemporary art will be exhibited in combination with local food, cocktails and music programming.   This inviting downtown experience fosters community and inspires curiosity, collaborating with galleries, museums, arts nonprofits and independent artists.