A full week in New York even during two storms yields such richness in the art world.  In between working with clients, we saw some exciting work by artists new to us as well as work by artists who we continue to place and follow.
More often than not, when we see new work that really grabs our attention, the artist has completed his or her MFA at Yale….this happens a lot. At a recent event, we asked Robert Storr (Dean, Yale School of Art) why this is so often the case.  He told us that Yale looks for the best young artists; those with unusual talent and a certain kind of drive that makes them capable of handling intense rigor of the program.  Yale MFAs kept popping up all week starting with Jay Heikes and Evan Nesbit at The Armory….
We are seeing a lot of work these days about materiality.  Evan Nesbit stands out.  He tie dyes burlap, stretches it and paints the back side of the canvas.  He's really interested in optical phenomenon.
The poetic works by Erica Baum will be in the Photo Poetics show at the Guggenheim this summer. There are several bodies of work….some very minimal and reminiscent of great modernists, and others playing with text and imagery. We popped into Bureau Gallery on the LES to get an overview: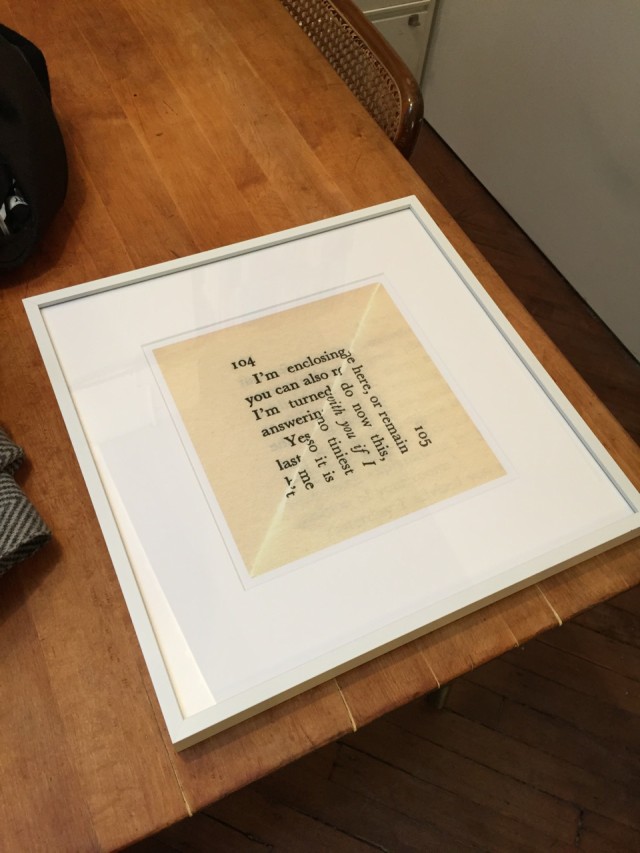 And on the subject of where artists got their MFAs….Tyler School of Art was where Rubens Ghenov and Marsha Cottrell got theirs….we're not necessarily drawing any conclusions here, but the rigor, process and thinking that these two young artists express is impressive.
For the past two years, Ghenov has been making work based on a poet of his own creation whom he has named Angelico Morandà.  With an adept hand and a passion for storytelling, Ghenov's work sits somewhere between fact and fiction. His work was featured at VOLTA by Morgan Lehman.
Marsha Cottrell at Eleven Rivington …. This is gorgeous work which blends new technology with a an art historical sensibility.  Using the keyboard, computer and laser printer as her tools, Cottrell creates drawings that float somewhere between abstraction and pictorial space.  Drawings that start on luminous mulberry paper are painstakingly and repeatedly laser printed with geometric shapes.  There is no actual digital file that exists for the images as they are literally created with the printer.
First time seeing the work of German artist, Reinhard Voss featured at Pulse fair by Galerie L'Inlassable from Paris.  Employing a lengthy process of joining wood fragments, dying, carving and painting, Voss explores the familiarness and foreignness of his subjects. The work feels contemporary and ancient at the same time.
Marcel Odenbach at Anton Kern….This was the most exciting work at the ADAA fair.  This monumental collage depicts Tiananmen Square the day before the opening of the Beijing Olympics. A closer look into the collaged layers reveals a more politically complex work made of images from the artists own archive of the beautiful flower market and the 1989 Tiananman Square massacre.  Smaller works have similar dichotomies.
New work from LA artist David Korty was featured at Wallspace in Chelsea. We've always loved David Korty's ceramics and paintings. For this show entitled Blue Shelf, drawing from his background as a printmaker, Korty selects his own hand-drawn or printed images and collages them onto a saturated blue ground that defies any sense of depth. Really thoughtful compositions that seem to be saying something about domestic space, collections and formal compositions.
And below is a shot from Wallspace's stand at The Independent fair featuring David Korty's ceramics and Daniel Gordon's photographs.
And with regard to Daniel Gordon's photographs…this is really fresh and exciting work.  Gordon, a photographer/sculptor mines the internet for images of the individual objects that make up his still life compositions. Using scissors and glue he actually creates the objects from the printed image, composes the still life in his studio and ultimately captures it photographically.  It's a multilayered process that results in rich, textured, and lively works of art.
and by the way….yes, Daniel Gordon got his MFA at Yale.