Thursday, April 3 – Iñigo Manglano-Ovalle Talk at San Francisco Art Institute 7:30 PM: Multi-media artist Iñigo Manglano-Ovalle will be speaking as part of SFAI's Visiting Artists and Scholars Lecture series.  Known for his conceptual and activist-inspired public works, Manglano-Ovalle uses technology to convey and challenge the complexity of politics and culture. A VAS social hour will be held before the event from 6:30 PM to 7:30 PM, register here to attend. The San Francisco Art Institute is located at 800 Chestnut Street San Francisco.
Sunday, April 13 – Spring Open House at Headlands Center for the Art 12:00 – 5:00 PM: The Headlands Center for Arts includes various programs supporting artists of all disciplines—from visual artists to performers, musicians, writers, and videographers—to create both independent and collaborative creative work. For their Open House, the center invites visitors to engage with artists and experience the art making progress, performances and readings.  Participating artists include Dru Anderson, LeRoy Bach, Andrea Bacigalupo, Teresa Baker, Laurel Braitman, Alex Cecchett, Lauren DiCioccio, Liam Everett, Pieter Hugo, Graham Gremore, David Janesko, Ryan Jones, Marya Krogstad, Emily Hanako Momohara, Christian Nagler, Samin Nosrat, A. Laurie Palmer, Sasha Petrenko, Nora Pierce, Simon Pyle, Meghann Riepenhoff, Dario Robleto, Steve Rood, James Sansing, Danielle Schlunegger, Floris Schönfeld, Christina Seely, Erin Wilson, Michael Wilson & Natalie Zimmerman, and Nyssa Zinn. Admission to the Spring Open House is free, find out more information about their arts programing here.  The Headlands Center for the Arts is located at 944 Simmonds Road, Sausalito.
FUNDRAISERS
Saturday, April 5 – Win Win 2 NIAD Art Center Fundraiser 4:00 PM:  more than 200 national and local artists, including all of the artists at NIAD's studio art program to produce work (paintings, photographs, sculptures and drawings) in a standard 6 x 6" format.  everyone with an admission ticket takes home a randomly chosen piece of art. Win Win 2 also features live music from Quinticism, light refreshments including local urban craft beers, a photo booth where the proud new owner and their work of art can be captured together, a special film screening and a whole lot more. Admission is $25 per person for a randomly chosen piece of art.  Tickets are $25 and can be purchased here.  Win Win 2 will be held at Clif Bar & Company, 1451 66th Street in Emeryville.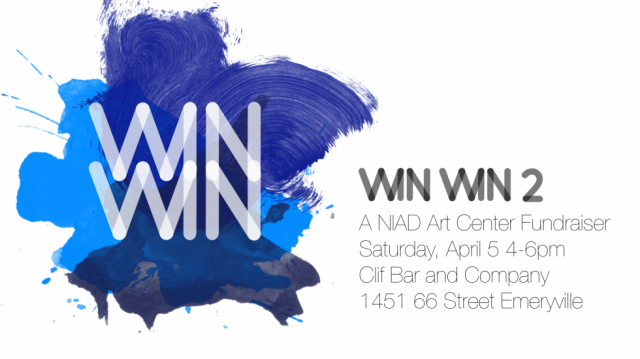 Friday, April 25 – The Changemaker Social 2014 at Intersection for the Arts 6:00 PM: The Changemaker Social celebrates those on the leading edge of positive social change, raising funds to support and bring awareness to the great diversity of artists, educators, and activists that make San Francisco the unique city that it is. This event will feature fare from local chefs, signature cocktails, a silent auction and limited edition prints by established and emerging contemporary Bay Area artists. Every year, Intersection for the Arts serves more than 200 artists and organizations, and touches the lives of more than 25,000 individuals. The Changemaker Social brings together this vital community to cultivate a new vision for change in the years to come. Tickets begin at $30 and can be purchased here.  The Changemaker Social will be held at 925 Mission Street, San Francisco.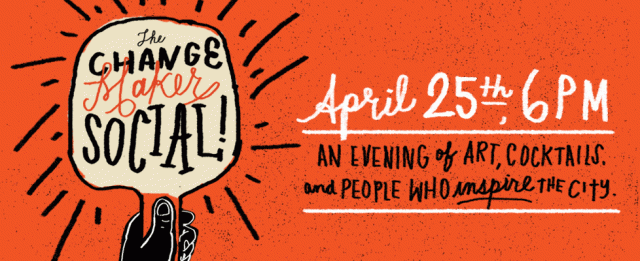 Saturday, April 26 – Kala 40th Anniversary Auction and Gala 6:30 PM: Celebrating Kala's 40th anniversary, this spring event will be a highly publicized exhibition and auction gala featuring outstanding artwork from prominent California artists. Along with the high quality original artworks will be unique art-related items offered through both live and silent auctions. This spring event combines a 10-day exhibition of works by the best and brightest artists currently working in California and culminates in the dynamic Gala Auction. A preview party for the gala will be held  Thursday, April 17 from 6:00- 8:00 PM.  Tickets begin at $75 and can be purchased here.  Kala 40 will be held at 2990 San Pablo Ave,  Berkeley.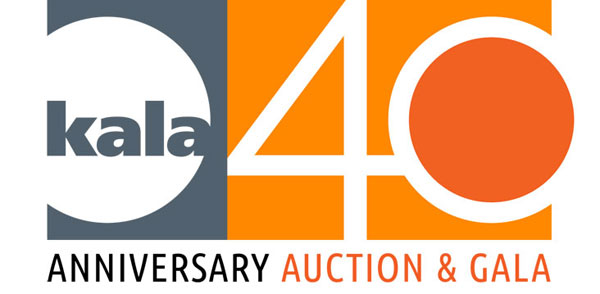 MUSEUM SHOWS
April 19 – July 27 – SuperAwesome: Art and Giant Robot and Vinyl: The Sound of Culture and Records at the Oakland Museum of California: The Oakland Museum of California is connecting two upcoming museum shows are part of its exploration of how communities are bridged through shared popular culture.  SuperAwesome: Art and Giant Robot celebrates the 20th anniversary of Giant Robot, an alternative arts and culture magazine.  Featuring work by Ako Castuera, Sean Chao, David Choe, Luke Chueh, Hamburger Eyes, Andrew Hem, James Jean, kozyndan, Masakatsu Sashie, Shizu Saldamando, Rob Sato, Amy Sol, Deth P Sun, and  Adrian Tomine the exhibition celebrates the history of the iconic magazine and its role in supporting emerging artists. Vinyl: The Sound of Culture creates an experiemental listening enviornment for visitors to explore the history of vinyl records. Featuring useable turntables, varying record sets curated by influential members of the record community, listening stations and social gathering areas, Vinyl presents a new and interactive take on the museum experience. Museum hours are Wednesday – Sunday 11:00 AM – 5:00 PM and Friday until 9:00 PM, admission is $15. The Oakland Museum of California is located at 1000 Oak Street, at 10th Street, Oakland.

April 23 – August 17 – Carleton Watkins: The Stanford Albums at the Cantor Arts Center: The Cantor presents the work of Carleton Watkins from the Stanford Library's Special Collections and Archives.  Known as one of the greatest landscape photographers of the 19th century, Watkins work played an instrumental role in convincing the 38th U.S. Congress and President Lincoln to pass the Yosemite Act of 1864, the first official step toward preserving the Sierra Nevada valley for public use.  As part of the 150th Anniversary of this historic act the Cantor will have on view iconic and rarely-seen images of Yosemite, the area around San Francisco, and of the Columbia River and Oregon. Museum hours are Wednesday–Sunday, 11: AM – 5 PM and Thursday until 8 PM., admission is free.  The Cantor Arts Center is located at 328 Lomita Dr, Stanford.