Ongoing – January 4th – Annual Holiday Art Exhibits and Sales at Creativity Explored, Creative Growth and NIAD:  If you are looking to give art to someone on your list, consider visiting one of these Bay Area organizations that provide art studios and exhibition space to adults with developmental and physical disabilities.  It's a win-win situation.  In San Francisco Creativity Explored's Annual Holiday Art Sale opens on Friday 11/30 from 6-9pm.  In Oakland, Creative Growth's Holiday exhibition Flick! opens Friday 12/7 from 5:30 – 9pm.  In Richmond, NIAD's exhibit (Affordable) Art from the Heart is up now until 12/28.  To make it even easier NIAD will even gift wrap your art purchase!
Saturday December 8th, 6-10:30pm, Root Division's Misfit Toy Factory II, 3175 Seventeenth Street:  Root Division presents The Misfit Toy Factory, a live artmaking event featuring over 40 artists making sculptures, toys, and giftables onsite in the gallery space.  All works made in this one night only event will be cash and carry for $40 each.  Join the misfits for a night of mayhem and making, and get your holiday shopping done in style!  Any unsold pieces will be available through December 14th.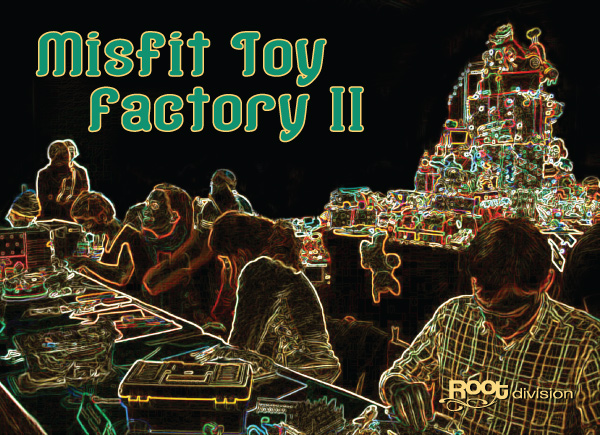 Ongoing, The Workshop Residence, Tues-Sat 10am – 6pm, 833 22nd Street:  Founded by Ann Hatch, The Workshop Residence provides artists and designers with a large studio/workshop, an adjacent apartment, living stipend, production budget, and a dedicated creative and logistical staff to facilitate their project.  Residencies engage new and traditional technologies, consider a wide spectrum of materials, and explore these ideas through collaboration with local creative communities and businesses.  Located in a bright yellow victorian in Dogpatch that is also home to Piccino, MAC, Dig Wine Shop, and Recchiuti Chocolate Lab, it's a one-stop day of fun.  While you're in the neighborhood, visit Romer Young Gallery, just down the street at 1240 22nd Street, Thurs to Sat 11am – 5pm.